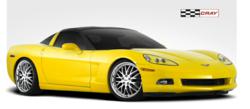 Corvette owners can rest assured of getting an optimum fitment for their model and year Corvette because Cray Wheels are engineered especially for Corvettes and are manufactured to the highest tolerances
Huntington Beach, CA (PRWEB) December 08, 2011
Corvette owners are faced with a dizzying array of aftermarket wheel choices. Large diameters and very wide widths which are typical dimensions of Corvettes make getting just the right fit for various models and model years problematic. Cray Corvette Wheels changes all that. Cray Wheels designs and manufactures wheels exclusively for Corvettes so that they fit properly.
Cray Corvette wheels has taken all the guesswork out of choosing exactly the right fit for every model and model year. Cray offers two different styles of custom Corvette wheels, Cray Scorpion wheels and Cray Manta wheels. In addition to the always popular chrome Corvette wheels, Scorpion and Manta wheels are offered in Gloss Black and Hyper Silver with a Mirror Lip. Cray designs and manufactures C4 wheels, C5 wheels, C6 wheels and Z05 Corvettes wheels. They are available in 17, 18, 19 and 20-inch diameters.
An online application guide on the Cray website enables Corvette owners to see all the various wheel sizes, finishes and specifications, across the Cray Scorpion and Cray Manta wheel lines. An online configurator goes further, providing owners with a visual platform to explore how each of the Cray Scorpion and Cray Manta wheels will look on their specific model, model year and even color car.
"Corvette owners can rest assured of getting an optimum fitment for their model and year Corvette because Cray Wheels are engineered especially for Corvettes and are manufactured to the highest tolerances", according to Cray Wheels President Terence Scheckter. Cray engineers take into account the staggered footprint common to most Corvettes. A staggered footprint means that the rear wheels and tires are slightly wider than the front, providing better traction and a more aggressive stance. Additionally, Cray Corvette Wheels engineers factor in the related concepts of wheel offset and backspace. Wheel offset on Corvettes is expressed as positive 50mm (front) and positive 65mm (rear), meaning the wheel centerline is offset away from the axle by that amount, providing a wider stance. Backspace measures how far the wheel intrudes into the wheel well towards the axle, and is important to ensure that there is no interference with suspension trailing arms or other mechanical systems.
Cray Wheels for Corvettes are designed to be hub centric, meaning they are engineered to fit precisely over the center flange of the brake rotor, ensuring that the wheel is concentric with the wheel bearings for a truer, better balanced wheel/tire assembly and a smoother ride. Finally, Cray Wheels for Corvettes are manufactured to be compatible with the OEM tire pressure monitoring system and center logo cap.
Prices of Cray Wheels for Corvettes range from $300- $650 and are available at all better automotive tire and wheel dealers. For a dealer near you, call 1-800-479-9723 or visit Cray Wheels at http://www.craywheels.com. Cray Corvette dealers are located throughout North America and worldwide, including Discount Tire Direct at http://discounttiredirect.com.
###