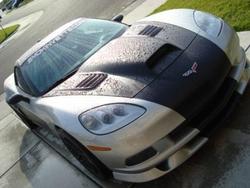 Sacramento, CA (PRWEB) July 15, 2008
SmokinVette.com a Corvette Forum operated by Corvette enthusiasts for Corvette enthusiast would like to announce after nearly 9 months in development the first ever Corvette Classifieds has gone live. SmokinVette.com is one of the world's largest Corvette Forums that creates a fun and non political environment for Corvette owners and enthusiast to share ideas, views, product reviews, technical, Q&A and much more.
SmokinVette.com is open to all Corvette generations from C1 to C5 and C6's. Registration is free and gives the Corvette enthusiast unlimited forum post's and photo uploads in our "Vette Gallery", a collection of thousands of Corvettes photos uploaded from Corvette owners around the world, giving them the ability to showcase their stock or modified Corvette. While visiting SmokinVette.com that guest has access to a wide selection of product advertisers consisting of some of the largest names in the Corvette and automotive industry.
SmokinVette.com made the official launch of the first ever Corvette Classifieds on July 2, 2008. A comprehensive yet easy to navigate Corvette/Automotive Classifieds, where there was no stone left unturned. This is free for members and guest to search, at the same time non-commercial listings are free also. Vendors of SmokinVette are able to upload their entire inventory with no additional cost to their existing affordable advertising rate. What they receive is their own back office where they have 24/7 access and the ability to upload, edit unlimited number of ads, each ad containing up to 12 color photos, full detail description, contact information including a direct link to where that product is hosted on their site, for quicker ordering. In addition to this there are some marketing tools at their finger tips that at any given moment will show the Vendor exactly the number of times each one of their ads was viewed by a potential buyer, how many emails/leads that have come through for each listing, as well as how many times each ad was forwarded through our "tell a friend" function.
SmokinVette.com prides itself on delivering technology that gives a forum a fresh new feel to it. With current economic conditions our goal is to provide easier and quicker access to products for members and guest that will result in more exposure and in many cases quicker exposure for Vendors marketing Corvettes for sale, performance parts and much more. At the end of day SmokinVette.com is able to provide a more efficient advertising venue all around.
For more information on SmokinVette.com please visit http://www.smokinvette.com or for advertising inquiries please email advertising @ smokinvette.com.
###