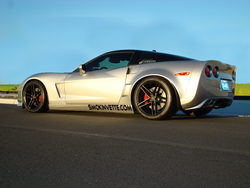 Huntington Beach, CA (PRWEB) December 7, 2007
SmokinVette.com a Corvette Forum operated by Corvette enthusiasts for Corvette enthusiast would like to announce after nearly 2 months in development the first ever Corvette Yellow Pages has gone live. SmokinVette.com is a Corvette Forum that creates a fun non political environment for Corvette owners and enthusiast to share ideas, views, product reviews, technical, Q&A and much more. SmokinVette.com is open to all Corvette generations from C1 to C5 and C6's. Registration is FREE and gives the Corvette enthusiast unlimited forum post's and photo uploads in our "Vette Gallery", a collection of Corvettes photos uploaded from Corvette owners around the world, giving them the ability to showcase their stock or modified Corvette. While visiting SmokinVette.com that guest has access to a wide selection of product advertisers some of the most recent to join the proud Smokin family include Gold River Auto Body, Vararam Industries, Speed Lingerie, Yank Performance Converters, STS Turbo, Vertical Doors, Inc., and Spring Mountain Motorsports.
SmokinVette.com made the official launch of the first ever Corvette Yellow Pages on December 6, 2007. A comprehensive yet easy to navigate Corvette/Automotive business directory. Parts, Dealers, Tuners, Body Shops and more can sign up for a FREE business listing or take advantage of one of our sponsor listings. At the same the auto enthusiast is able to quickly access product and service vendors with ease. Part of what makes this Corvette/Automotive business directory so unique is its easy to use search function. Within a couple clicks, a user is able to find professional's any where within the nation. Visit the SmokinVette.com Corvette Yellow Pages here.
SmokinVette.com would like to congratulate the winner of our first ever "Smokin Contest", a virtual car show that is free to enter, participants share a few photos and description of their stock or modified Corvette. November's winner of a Snow Performance water/methanol kit was awarded to Tim Maharrey from Decatur Indiana with his 2001 Chevrolet C5 Corvette with a 408 stroked motor and single turbo. We would also like to thank all the other participants who took part of this contest.
Now for the month of December SmokinVette.com will have a much larger contest with many more Corvette parts we are giving away, ranging from winners choice of a Corsa exhaust system, Speed Lingerie Bra, Billet Grill and so much more. A press release and news letter (to registered members) will be sent out during next few days with full details, so stay tuned. If you have not registered with the SmokinVette.com corvette forum please take a few minutes and register today.
Last but not least the SmokinVette.com corvette forum staff would like to thank Corvette Enthusiast magazine for the article on page 13 of February 2008 issue that just hit the stands.
###