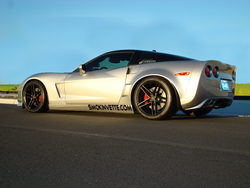 Huntington Beach, CA (PRWEB) December 10, 2007
SmokinVette.com a Corvette Forum operated by Corvette enthusiasts for Corvette enthusiast would like to announce its largest Corvette Parts Give-A-Way yet. SmokinVette.com is a Corvette Forum that creates a fun non political environment for Corvette owners and enthusiast to share ideas, views, product reviews, technical, Q&A and much more. SmokinVette.com is open to all Corvette generations from C1 to C5 and C6's. Registration is FREE and gives the Corvette enthusiast unlimited forum post's and photo uploads in our "Vette Gallery", a collection of Corvettes photos uploaded from Corvette owners around the world, giving them the ability to showcase their stock or modified Corvette. While visiting SmokinVette.com that guest has access to a wide selection of product advertisers some of the most recent to join the proud Smokin family include Diablo Sport, HiTek Hot Rods, Sports Car Driving Experience, Custom Center Caps and Millennium Plus.
SmokinVette.com Corvette Forum has launched as of December 10, 2007 its largest Smokin Contest ever. Giving away more Corvette Parts to winning participants of the Christmas/New Year Virtual Car show. This contest is free and open to all registered members of SmokinVette.com Corvette Forum with a Stock or Modified Corvette, any generation.
To participate in this contest register for Free by clicking here, then visit the forum and share a few photos and brief description of your stock or modified Corvette. That's it! On January 10, 2008 the contest ends and winners will be announced. Judged on simply photo's and their description of their Corvette.
Visit SmokinVette.com Corvette Forum today and enter into this months contest.
Here are this Months Prizes:
1st Place: Corsa Performance Exhaust system for 1986 or newer C4, C5, C6 and 1990 - 1995 ZR1 Corvette. (Sponsored by Corsa Performance)
2nd Place: Speed Lingerie Bra for a C4, C5 or C6
(Sponsored by Speed Lingerie)
3rd Place: C5 or C6 Car Cover
(Sponsored by Southern Car Parts)
4th Place: US Speedo C6 Gauge Covers
(Sponsored by US Speedo)
5th Place: C6 Billet Grill
(Sponsored by Corvette Clinic)
6th Place: Kenny Bell Boost-A-Pump
(Sponsored by Kenny Bell)
7th Place: C6 Screens
(Sponsored by Late Model Speed)
8th Place: 1 Year Subscription to Corvette Enthusiast Magazine
(Sponsored by Corvette Enthusiast Magazine)
###