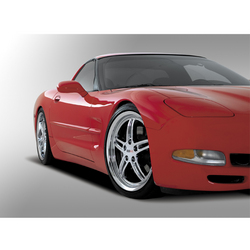 The configurator we built enables a true visual representation of Cray wheels on Corvette motor cars
Huntington Beach, CA (PRWEB) August 8, 2009
Corvette car owners looking for Cray custom wheels can now utilize the on line http://www.craywheels.com configurator to test fit wheels on their Corvettes.
"The configurator we built enables a true visual representation of Cray wheels on Corvette motor cars," says Terence Scheckter, President of Cray Corvette Wheels, "The Cray Wheels configurator has been designed exclusively for Corvette's."
How does the Corvette wheels configurator work? The user selects the Corvette vehicle type (Corvette C5 and Corvette C6 are vehicle options on the Cray Wheels configurator), the vehicle color, the Cray wheel style and finish. The result gives the user an excellent visual representation of Cray custom wheels on Corvette motor cars.
Cray Wheels offers the Scorpion and Manta Wheels, available in staggered sizes ranging from 17 inch to 20 inch. The wheels are available in hyper silver, gloss black and chrome finishes. The wheels have been designed to complement the performance and racing aesthetic of Corvette's. "As beautiful as the Corvette may be, a set of Cray custom wheels can make all the difference to the look of your Corvette," says Scheckter.
Why Cray Corvette Wheels? Cray Wheels are designed exclusively for Corvettes. Corvette Wheels have large diameters and very wide widths and are notoriously difficult for fitting aftermarket wheels. Cray Wheels was born out of the need to change this. Cray Wheels embody more than 20 years of design experience and have been engineered to fit Corvette's perfectly. To ensure a smooth ride, all Cray Corvette wheels are created to be hub centric and are made to the tightest tolerances. Also, Cray wheels are engineered to accept the original Corvette center cap and are designed to take the original Corvette air sensor. "When it comes to custom wheels for Corvette, Cray has the perfect fit," says Terence Scheckter, president of Cray Wheels, "all wheels are hand assembled and built to Cray's exacting specifications"
The Cray Corvette wheel configurator has had a great response from customers. It provides a great visual platform on which to test fit Crays custom aftermarket wheels on Corvette's.
Prices of Cray wheels vary from $300 - $650 and are available now. For a dealer near you, call
1888-631-7058 or visit Cray Wheels on the web at http://www.craywheels.com/. Cray Corvette dealers are located throughout North America and worldwide, including Discount Tire Direct on the web at http://www.discounttiredirect.com/.
###