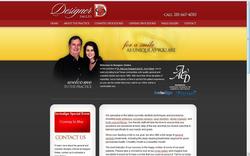 They didn't pressure me to go into the family practice. In fact, when I was doing my internship, I intentionally worked in other specialties and with other doctors.
Webster, TX (Vocus) April 23, 2009
While many people become nervous and fearful at the mere mention of the dentist's office, Dr. Ann Fishel practically grew up in one. Dr. Fishel is a Houston cosmetic dentist soon to celebrate 5 years working alongside her father. Dr. Fishel has witnessed the growth of dentistry since she was a small child – her dad, Dr. Marcus Haggard, has run the Designer Smiles general and cosmetic dentistry facility in Clear Lake City for more than 30 years, and Dr. Fishel spent much of her childhood hanging out in his office with her mother, Rosanne, a dental hygienist. In a recent interview with Mimi Knight of Living Magazine, Dr. Fishel says although she was a regular visitor to her father's practice, she was not necessarily being groomed to be a dentist. "They didn't pressure me to go into the family practice. In fact, when I was doing my internship, I intentionally worked in other specialties and with other doctors."
But Dr. Fishel already had an in-grained appreciation for the work her parents performed, and saw firsthand the way some patient's smiles, and even lives, changed after treatment. After receiving her DDS degree at the Texas A & M Baylor College of Dentistry, Dr. Fishel joined her father's Houston cosmetic dentistry practice in 2004. In the Living Magazine cover story, Dr. Fishel points out the benefits to patients that a family practice can bring. "Dad and I complement each other well professionally. Dad has 41 years of clinical experience, and I have an insatiable curiosity about the latest medical and dental technology. We consistently practice with a team-approach philosophy, working cooperatively on many procedures."
Those procedures include a variety of state-of-the-art treatments designed to improve the appearance of the teeth and overall oral health. Dr. Fishel, Dr. Haggard, and the newest addition to the team, certified Texas Invisalign® provider Heather Darcy, DCS, offer comprehensive dental care at Designer Smiles. Dental implants, laser dentistry, periodontal (gum) treatment, fillings and sealants, and a range of general and cosmetic dentistry procedures can be performed at their facility. One of the most popular procedures Designer Smiles offers is porcelain dental veneers for Houston patients looking to cover up a tooth that is damaged or stained from years of coffee and wine-drinking or tobacco use. Dr. Fishel and Dr. Haggard also provide the latest in orthodontics, such as Invisalign® clear teeth aligners, capable of straightening the teeth discreetly, without the use of metal braces. Standard dental care such as deep cleanings and tooth-colored fillings are also part of the full range of treatments offered by Designer Smiles; and, Dr. Fishel performs teeth whitening for Houston-area patients, helping those who simply want to have whiter, brighter teeth.
For Dr. Ann Fishel, providing effective cosmetic dental treatment is an important way of not only keeping the teeth and gums healthy and bright, but also boosting self-confidence and giving patients a smile that lights up the room. And along with that, Dr. Fishel continues to educate herself on the latest procedures, give back to her community, and keep the family legacy going by offering cosmetic and family dentistry… from a true family.
"Nothing could replace being able to work alongside my father."
Dr. Ann Fishel is a member of the American Dental Association, the Texas Dental Association, the Houston District Dental Society, the Texas Women's Dental Association, and the American Academy of Cosmetic Dentistry. She can be reached at Designer Smiles - 1015 Medical Center Blvd., Suite 1600, Webster, Texas 77598 – (281) 338-9032– or via her website at http://www.designerforsmiles.com.
###