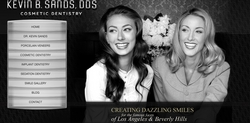 Carlsbad, CA (Vocus) November 3, 2010
Dr. Kevin Sands, a Beverly Hills cosmetic dentist, has implemented an innovative patient management system, which creates a powerful social network within his current patient base while enhancing his ability to reach out to potential patients. The new electronic system allows Dr. Sands and his staff to email or text reminders to patients, which Dr. Sands says improves his ability to stay connected with them between appointments.
With the continuing growth and burgeoning success Dr. Sands has experienced in performing cosmetic dentistry procedures such as teeth whitening in Beverly Hills, he says staying on top of the changing landscape of mobile and internet-based communication is now much easier with the new electronic practice management system. In addition to allowing him and his staff to provide current patients with up-to-the-minute reminders for upcoming appointments, the software allows them to handle patient referrals more effectively, which means the overall process of patient care is quicker and allows them to be more attentive to their patients.
By managing patient needs from their initial experience with his practice, Dr. Sands says he is able to foster the growth of a social network centered on his practice and his pursuit of perfection when creating beautiful smiles with cosmetic procedures such as porcelain dental veneers in Beverly Hills. Dr. Sands says whether his patients need to schedule an appointment or are looking for information regarding a cosmetic dentistry procedure on his website, his patients can stay connected to his practice 24 hours a day, 7 days a week.
Whether Dr. Sands is providing his patients with porcelain veneers or dental implants in Beverly Hills, he says the ability to communicate with patients between office visits not only enhances his connection with them, but also improves scheduling by allowing for real-time reminders and adjustments. For Dr. Sands, he says increased efficiency translates to greater patient satisfaction and stronger relationships, which are the foundation for success at his practice.
About Dr. Sands
Dr. Kevin Sands earned his medical degree from the University of Southern California School of Dentistry. He also completed advanced dental training at the Las Vegas Institute for Advanced Dental Studies for Advanced Anterior Aesthetic Dentistry. Dr. Sands is a member of the California State Dental Association, the Academy of Cosmetic Dentistry, and the American Dental Association.
Dr. Sands' Beverly Hills cosmetic dentistry practice is located at 414 North Camden Dr. Suite 940 in Beverly Hills, CA 90210, and can be reached at (310) 707-1288 or http://www.beverlyhillscosmeticdentist.com/
###