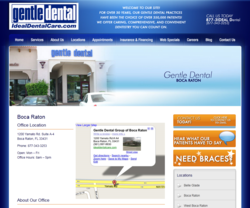 Boca Raton, FL (Vocus/PRWEB) April 05, 2011
Oral cancer affected nearly 37,000 Americans in 2010, with only slightly more than half of that number living five years beyond their diagnosis[1]. As dentists in Boca Raton, FL the Gentle Dental Group says their practice has been creating beautiful smiles for their patients for years. However, they add that maintaining exceptional oral health remains the top priority, which led the practice to implement the innovative VELScope® Oral Cancer Screening System.
The U.S. Food and Drug Administration and Health Canada recently cleared the VELscope® System for assisting dentists and hygienists in discovering cancerous and precancerous growths that may not be apparent to the naked eye. With the VELscope® System, the cosmetic dentists can screen for oral cancer in one to two minutes during a conventional examination, or a common procedure such as teeth whitening. The dentists say the procedure is completely pain-free; they add that while it is affordable, a growing number of insurance companies are beginning to cover the cost of screening.
Gentle Dental Group has always conducted annual comprehensive oral cancer screening as part of the routine dental exam according to Dr. Neal Ziegler - Chief Dental Officer of the Gentle Dental Group. He adds that oral cancer is typically discovered in the late stages of development, when the five-year survival rate is only 22%: "By detecting potential problems earlier, we'll be providing our patients with the best defense against oral cancer currently available." Chief Executive Officer of the practice's management company adds that oral cancer screening has always been a part of the traditional dental exam. "Gentle Dental Group is deeply committed to providing the best dental care available for its patients, including the latest technology and techniques." He adds that the VELscope® System is not only an investment in the future of the practice, but also the future health of their dental patients.
About Gentle Dental Group
Gentle Dental Group have been providing comprehensive dental treatment in South Florida for over 30 years serving over 370,000 patients. By offering complete general, cosmetic, reconstructive and specialty dentistry in each of their modern state-of-the-art offices (including orthodontic treatment, Invisalign®, periodontal gum treatment, oral surgery, endodontics or root canals, and pediatric dentistry), Gentle Dental provides a convenient solution for its patients.
Gentle Dental Group has 19 convenient dental offices throughout South Florida, including two Boca Raton office locations, 1200 Yamato Rd. Suite A-4 in Boca Raton, FL 33431 and 9045 La Fontana Boca Raton, FL 33434, and both can be reached at (877) 343-3253, or found online at http://www.idealdentalcare.com.
[1] Oral Cancer Facts 2010: http://www.oralcancerfoundation.org/facts/index.htm
###