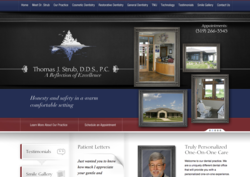 Cedar Falls, IA (PRWEB) February 09, 2012
At his Cedar Falls cosmetic dentistry practice, Dr. Thomas Strub recently released a new website devoted to cosmetic, general, and restorative dental procedures. Dr. Strub says he is excited about the announcement, as it offers patients a chance to take a more active role in their dental education and patient experience by incorporating several key elements from the latest in dental website design. Focusing on cosmetic procedures such as porcelain veneers in Cedar Falls, Dr. Strub also says he hopes the website will serve as an online resource for patients looking for more information about dentistry in Iowa. The new site pairs reader-friendly content with up-to-date dental techniques and technology to provide patients a thorough review of Dr. Strub's practice and his dental procedures ranging from TMJ treatment and regular cleanings to dental implants.
Some of the main features of Dr. Strub's website include interactive, drop-down tabs linking to detailed content on his available procedures, as well as an extensive photo gallery of his results. Dr. Strub says the site also displays his dedication to providing state-of-the-art technology through several in-depth pages that cover the latest dental products at his practice from a computer shade-matching device for teeth whitening to a diagnostic intra-oral camera for taking photographs of his patients' teeth. The website also offers social media buttons for social network connectivity and enhanced patient care. Dr. Strub says the utilization of platforms such as Facebook will allow him to maintain consistent engagement with his patients to answer any questions they may have while not present at his practice.
Dr. Strub and his practice collaborated with San Diego-based dental website design firm Rosemont Media to develop the new site, a creation which Dr. Strub says marks his commitment to the satisfaction and comfort of his patients. Dr. Strub also adds that he hopes the new site will provide him a chance to improve dental education and create a more positive, enriching experience for both him and his patients.
About Thomas J. Strub, DDS, PC
Dr. Thomas Strub earned his undergraduate degree from the University of Iowa and his dental degree from the University of Iowa School of Dentistry. He is a member of the American Dental Association, the Iowa Dental Association, the Minnesota Dental Association, and several other professional societies. Dr. Strub's passion for mission work has led him to numerous international countries including Honduras, Panama, the Himalayan Mountains, and Jamaica, as well as local volunteer programs such as Iowa Mission of Mercy in Waterloo, Give Kids a Smiles, and the Donated Dental Services Program.
Located at 715 Bluegrass Circle in Cedar Falls, IA, Dr. Strub's practice can be reached at (319) 266-3545. It can also be contacted online via the website strubdds.com or facebook.com/pages/Thomas-J-Strub-DDS/193175137432903.
###