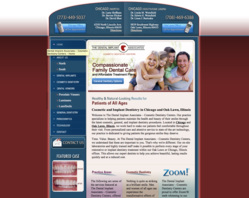 Chicago, IL (PRWEB) July 27, 2011
The Chicago dentists at Dental Implant Associates say they have recently adopted new oral cancer screening technology to help protect the nearly 37,000 Americans that will be diagnosed with the disease according to the Oral Cancer Foundation (OCF). They say the benefits of oral cancer screening and performing a simple brush biopsy on any suspicious lesion are twofold: by reducing false positives they are able to limit the number of surgical biopsies normally required and, by eliminating false negative outcomes patients can be confident that every lesion with precancerous or cancerous cells has been identified.
One significant concern with oral cancer is the particularly high death rate associated with this disease. According to the OCF, the increased risk comes not from the difficulty in diagnosis, but from the delayed discovery of cancerous cells already in late stages of development when it has metastasized to another area of the body [1].
While the focus of the practice is adult dental care with an emphasis on cosmetic enhancement, restorative and reconstructive procedures, and general dentistry, the Dental Implants Associates team remains dedicated to improving each patient's oral health, while protecting their overall safety and well-being.
About the Dental Implants Associates
The Dental Implant Associates have two locations in the Chicago-area. The North Chicago office is located at 6258 North Lincoln Ave., Chicago, IL 60659 and can be reached at (773) 478-5520. The South Chicago Oak Lawn office is located at 9839 Southwest Highway in Oak Lawn, IL 60453, and can be reached at (708) 469-6388. More information about the Dental Implant Associates, as well as directions to both locations can be found online at http://www.dentalimplantassociates.com.
[1] Oral Cancer Foundation. Oral Cancer Facts. Retrieved on 7/21/2011 from oralcancerfoundation.org/facts/index.htm
###