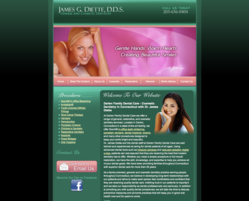 Fairfield, CT (PRWEB) July 21, 2011
With more than 26 years of experience as a cosmetic dentist in Fairfield, CT, Dr. James Diette has served the family dental care needs of Darien, CT. He is announcing the launch of a new patient communication system that will allow his Connecticut dentistry team to stay connected with patients between visits, as well as send email and text reminders for upcoming cosmetic dentistry appointments. Dr. Diette says he believes the system will not only improve patient communication, but strengthen the overall patient-dentist relationship.
Whether he is performing routine dental exams or more complex cosmetic procedures such as dental implants or porcelain veneers, Dr. Diette says he and his team strive to create positive patient experiences with every office visit. Furthermore, because he believes general and preventative dental care is essential to those positive experiences, he adds that staying connected with patients between appointments will further enhance his ability to maintain healthy oral habits while creating beautiful smiles.
Dr. Diette says he and his Darien Family Dental Care team have always focused on providing the safest and most effective dental care available, which includes a firm commitment to providing state-of-the-art dental technology. He adds that above all else, he believes the new patient communication system will enhance his team's ability to create positive patient experiences regardless of the cosmetic dentistry procedure being performed.
About James Diette, DDS
Dr. James Diette earned his dental degree from the Northwestern University School of Dentistry. He has been practicing in Darien, CT for more than 26 years, and specializes in general, cosmetic, and pediatric dentistry. Dr. Diette is a member of the American Dental Association, the Connecticut State Dental Association, the Stamford Dental Society, and the Academy of General Dentistry.
Darien Family Dental Care is located at 722 Post Road in Darien, CT 06820, and can be reached at (203) 6546-0404, or found online at dariencosmeticdensitry.com, or the Darien Family Dental Care Facebook page.
# # #