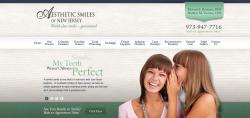 Morristown, NJ (Vocus/PRWEB) November 23, 2010
Dr. Edward Romano and Dr. Matthew Vaccaro, cosmetic dentists in New Jersey, are announcing the launch of their new website, which is designed to help patients better connect with their practice whether they are improving dental health with general, cosmetic, or restorative dentistry in Morris County, NJ. The dentists say that they take an artistic approach to each smile to provide their patients with a smile that will create seamless aesthetic harmony. Dr. Romano and Dr. Vaccaro add that they took the same approach during the website design process to ensure their patients' are able to formulate their cosmetic dentistry goals and expectations, whether in need of teeth whitening or dental implants in New Jersey.
When performing restorative and cosmetic dentistry procedures such as porcelain dental veneers in New Jersey, Dr. Romano and Dr. Vaccaro say they strive to create beautiful smiles while forging long-lasting relationships with each of their patients. Whether concentrating on preventative children's dentistry, cosmetic treatments, or dental prosthetics, the dentists say they aim to create the smile of a lifetime. By providing a comprehensive look into their practice, along with detailed descriptions of all the procedures they offer, the Morristown dentists say they hope to provide their patients with an educational resource when considering dental procedures of any degree.
In collaboration with Rosemont Media™, a dental website design firm in San Diego, Dr. Romano and Dr. Vaccaro have incorporated a variety of user-friendly options to provide current and potential patients with an informative, in-depth look into their practice, as well as biographies of each dentist, a before-and-after gallery, and social media buttons to encourage patient interaction in an online social media community. With the new website, the dentists say they hope to improve overall patient satisfaction with Aesthetic Smiles of New Jersey.
About Dr. Edward Romano
Dr. Romano earned his dental degree from Georgetown University School of Dentistry. He has continued to perfect his dentistry skills and increase his knowledge of cutting-edge dental technology with extensive continuing education courses and conferences. Dr. Romano maintains an aggressive teaching and lecturing schedule as well, and has been featured on a number of television news programs including Dateline NBC and CNN. He is an attending dentist at Morristown Memorial Hospital where he teaches general and cosmetic dentistry, and advanced dental techniques to dental residents. He has also served as president of the New Jersey chapter of the American Academy of Cosmetic Dentistry.
Dr. Matthew Vaccaro
Dr. Vaccaro earned his dental degree from the State University of New York at Buffalo. While in attendance there, he earned two awards for his work in dental implant placement, and fabrication and prosthodontics. Dr. Vaccaro completed his dental residency at the Morristown Memorial Hospital, and continues to instruct residents on all aspects of dentistry. He is a member of the American Academy of Cosmetic Dentistry, the American Dental Association, the Academy of General Dentistry, and the Tri-County Dental Society.
Aesthetic Smiles of New Jersey is located at 310 Madison Ave. in Morristown, NJ 07960, and can be reached at (973) 947-7716 or http://www.aestheticsmilesofnj.com
###