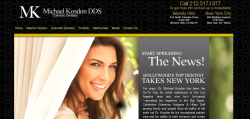 New York, NY (Vocus/PRWEB) November 30, 2010
As a top cosmetic dentist in Hollywood, Dr. Michael Kosdon has performed a number of smile makeovers for A-list celebrities. To allow him to support the growing needs of his patients, Dr. Kosdon is now bi-coastal, as he is announcing the opening of a Manhattan-based practice. The New York City cosmetic dentist is also announcing the launch of an innovative new website to provide his New York cosmetic dentistry patients with a comprehensive network of information designed to enhance their online experience with his practice. Dr. Kosdon says he hopes the website will increase his ability to provide exceptional patient care and create natural, beautiful smiles, whether employing cosmetic procedures such as teeth whitening, or more comprehensive smile restoration with procedures such as dental implants in Manhattan.
Dr. Kosdon says he is looking forward to providing his New York cosmetic dentistry patients with the same A-list dental care he has been providing Hollywood with for years. Regardless of the procedure, he says he strives to create a beautiful smile for each patient, and believes the new website will improve his ability to reach out to patients and help them understand the treatment process. Whether his patients are in need of cosmetic procedures such as porcelain veneers in Manhattan, or a full-mouth rehabilitation, Dr. Kosdon says the website is an educational resource that can supplement his patients' quest for a beautiful smile by providing a detailed breakdown of every procedure he offers, as well as patient testimonials and a before-and-after smile gallery.
The new website was created in collaboration with Rosemont Media™, a dental website design firm located in San Diego. The Manhattan cosmetic dentistry website includes a variety of user-friendly options to provide current and potential patients with an informative overview of the practice, as well as social media buttons to foster the formation of an online patient community. Dr. Kosdon says he hopes the new website will improve overall patient satisfaction with his New York practice by creating a positive experience and a lasting patient-doctor relationship.
About Dr. Kosdon
Dr. Michael Kosdon earned his dental degree from the University of Southern California School of Dentistry. He maintains a state-of-the-art practice in both Los Angeles and New York, and remains dedicated to providing his cosmetic dentistry patients with beautiful smiles. Dr. Kosdon is a member of the American Dental Association and the American Academy of Cosmetic Dentistry. He continues to pursue the latest in dental technological advancements through continuing education courses and cosmetic dentistry conferences.
Dr. Kosdon has two office locations: 414 N. Camden Dr. Suite 940 in Beverly Hills, CA 90210; and 595 Madison Ave. 27th floor, New York, NY 10022. He can be reached at (212) 317-1377, and online at the practice website http://www.smilesofnyc.com or the Michael Kosdon DDS Smiles of NYC Facebook page.
###