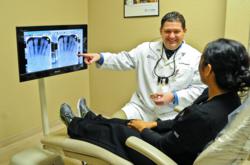 Feel anxiety-free with sedation for your cosmetic dentistry services.
Phoenix, AZ (PRWEB) November 17, 2012
Desert Dentistry is operated by dentists in Phoenix, AZ, serving at five office locations in the area: North Central Phoenix, South Central Phoenix, Ahwatukee, Payson, and Surprise. These dentists understand that dental appointments can be nerve-wracking and unpleasant for patients, which is why Dr. Thomas Mattern and his team are now offering sedation for cosmetic dentistry procedures.
The dentists at Desert Dentistry offer three forms of sedation, all of which are safe and administered by trained professionals. The first, nitrous oxide, is the gentlest form; the patient inhales the "laughing gas" during the procedure to experience relief from anxiety. The second form, oral conscious sedation, involves the patient taking medication in pill form prior to the appointment. The third form, IV sedation, is the strongest form and involves the use of medication administered intravenously during the procedure. Desert Dentistry's dentists are trained to administer sedation safely and effectively to give patients the best experience possible.
Sedation can be highly beneficial for patients who are getting dental implants. The surgery required for dental implant placement is invasive and lengthy, but with sedation, the procedure will seem to go by much faster for the patient and will allow the patient to remain calm and relaxed throughout the procedure. Dental implant patients often benefit from IV sedation because it is the strongest form.
Using sedation is also helpful for patients who are improving their smiles with porcelain veneers. Veneers are one of the most popular cosmetic dentistry treatments because they can cover a wide range of imperfections to help patients achieve their dream smiles. However, before the veneers can be applied, some tooth enamel often must be removed to ensure the veneers will not appear too bulky. This process can cause some discomfort, in which case being sedated is beneficial.
Because Dr. Mattern is also a children's dentist with a team of board certified pediatric dentists, Desert Dentistry offers sedation for younger patients. The use of sedation can help children have much more relaxed and easy dental appointments. Children can even undergo full sedation if necessary, depending on the child's anxiety level and the procedure being performed. Using sedation can help prevent children from developing a fear of going to the dentist and encourage them to continue seeing a dentist regularly when they reach adulthood.
The dentists at Desert Dentistry recommend patients schedule a consultation prior to their procedures to discuss whether sedation is the right choice for them, and if so, which form is most appropriate. Many patients will find that sedation helps them feel much more at ease while undergoing cosmetic dental procedures.
During a sedation consultation, the dentist will ask the patient questions about his or her medical history, describe what the patient can expect during and after sedation, and make a recommendation as to which type is most suitable for the patient. Depending on the procedure, patients often can choose which form of sedation they will use. Patients who use oral conscious or IV sedation should be aware that they will need transportation home after their appointments, as it can take several hours for the drowsiness to wear off. Patients who use nitrous oxide, however, are able to drive home or go to work immediately after the appointment because the effects wear off within minutes.
Sedation is not only for people who experience anxiety; in fact, most patients can benefit from some form of sedation. For instance, sedation can be helpful for patients who have a strong gag reflex or need to undergo multiple or lengthy procedures. With the use of sedation, patients often do not even remember the appointment afterward.
Sedation is now available at select Desert Dentistry locations to help patients in the Phoenix area experience better, more relaxed dental appointments. It can be used for almost any procedure, from simple cleanings to oral surgery. For more information about sedation services, patients should contact the nearest Desert Dentistry office.