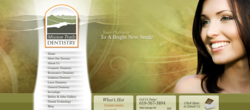 San Diego, CA (Vocus/PRWEB) January 25, 2011
James D. Salazar, DDS is a cosmetic dentist in San Diego and has been in practice at Mission Trails Dentistry for more than 10 years. After passing the written examination, Dr. Salazar recently passed the rigorous clinical case submission portion in the accreditation process with the American Academy of Cosmetic Dentistry (AACD). The case submission section is what the AACD calls "the core of the accreditation process" where cosmetic dentists are required to submit five cosmetic dentistry case types to be evaluated by a panel of AACD judges. By completing this portion of the process Dr. Salazar has clearly confirmed his diagnostic aptitude and quantifiable excellence in a variety of cosmetic dental treatments. He says he is looking forward to completing the oral exam at the AACD headquarters in Madison, WI in January 2011, and receiving his final accreditation at the Annual Conference for the AACD in Boston, MA in May.
The AACD accreditation process strives to set standards for excellence in cosmetic dentistry procedures such as porcelain veneers, composite bonding, dental implant restoration and teeth whitening. According to the web site for the AACD, dentists who receive accredited status are dedicated to continuing education, carefully adhere to the AACD's protocols, and demonstrate a resolve to produce exceptional dentistry. When a dentist or laboratory technician receives accreditation, it represents an acknowledgment of their excellence in cosmetic dentistry.
Dr. Salazar says he is looking forward to the final step in the accreditation process with the AACD, and the annual conference in May 2011. He adds that he supports the entire process because he believes in the importance and necessity of an organization like the AACD. He says he appreciates the chance to interact with the forward-thinking and talented cosmetic dentists associated with the AACD, and believes his patients will benefit from the ongoing pursuit of perfection that the accreditation process demands.
About James D. Salazar DDS
Dr. James Salazar earned his dental degree from the University of California San Francisco Dental School. He is a member of the American Dental Association, the California Dental Association, and the San Diego County Dental Society. Dr. Salazar completed three levels of advanced dentistry pursuits at the prestigious Pankey Institute, in Key Biscane Florida, and is a member of the San Diego Invisalign® Study Club. He pursues a rigorous calendar of continuing education courses in a range of cosmetic dentistry fields to remain on the cutting-edge of dental techniques and the latest technology.
Mission Trails Dentistry is located at 6902 Navajo Rd., San Diego, CA 92119 and can be reached at (619) 567-3894, or found online at http://www.missiontrailsdentistry.com/ or the Mission Trails Dentistry Facebook page.
###