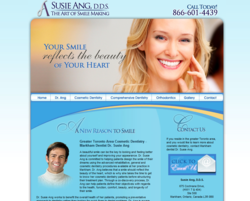 Toronto, Ontario, Canada (Vocus/PRWEB) March 29, 2011
The most recent research from the American and Canadian Academy of Craniofacial Pain shows 5 – 15% of the North American population suffers from pain associated with Temporomandibular disorder, more commonly referred to as TMJ. At her Toronto cosmetic dentistry practice, Susie Ang, DDS says dental practitioners must treat TMJ and other common craniofacial disorders holistically to help patients truly manage pain.
Dr. Ang says cosmetic dentistry procedures such as dental implants and porcelain veneers in conjunction with TMJ treatment can eliminate pain and create a gorgeous smile. She says medical research has confirmed craniofacial disorders occur through readaptation and neurological signaling errors related to common misalignment issues that lead to TMJ. adding that because of her interest in craniofacial dentistry, she is able to treat her patients from a unique, and more informed perspective than traditional dentists. Once her patients' pain is under control, Dr. Ang says she promotes a preventative approach to dental health to avoid future concerns and maintain long-lasting function and comfort, while creating positive patient experiences.
About Dr. Ang
Susie Ang, DDS earned her dental degree from the University of Toronto, Faculty of Dentistry. She then completed post-graduate work in Esthetic Dentistry at SUNY Buffalo, along with a number of continuing education courses focused on holistic cosmetic dentistry, including smile makeovers with teeth whitening and porcelain veneers. Dr. Ang is a member of the American Academy of General Dentistry, the Toronto Crown and Bridge Study Club, the Toronto Academy of Cosmetic Dentistry, and the American Academy of Dento-Facial Esthetics. She also maintains a long-standing relationship with the Pankey Institute, an educational center devoted to achieving excellence in cosmetic and restorative dentistry.
The Art of Smile Making, Dr. Susie Ang's cosmetic dentistry practice, is located at 675 Cochrane Dr. (HWY 7 & 404) Ste. 508 Markham, Ontario, Canada L3R 0B8, and can be reached at (866) 601-4439, or found online at http://www.drsusieang.com.
###