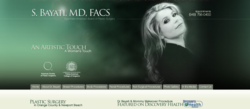 Newport Beach, CA (PRWEB) April 26, 2011
At her Newport Beach, CA plastic surgery practice, Semira Bayati, MD, FACS is announcing her induction into the American Society for Aesthetic Plastic Surgery (ASAPS), which is the leading professional organization for board-certified cosmetic plastic surgeons. With over 2,600 members worldwide, ASAPS remains committed to pursuing the latest aesthetic enhancement technology, cutting-edge techniques, public education, and patient advocacy for procedures such as liposuction, tummy tucks, and breast enhancement.
Only about one quarter of all plastic surgeons certified by the American Board of Plastic Surgery are members of ASAPS [1], as the standards for membership are extensive. Ultimately, Dr. Bayati says one of the most impressive and informative elements is the fact that ASAPS membership requires a surgeon to be sponsored by two current ASAPS members to ensure that her professional reputation maintains the organization's high standards.
As Dr. Bayati prepares for the ASAPS Aesthetic Meeting 2011, which will be held in Boston from May 6-11, she says she is excited to attend the event this year as a member. She adds that if ASAPS is the leader in plastic surgery worldwide, the annual conference is the nexus of innovation in the field of cosmetic enhancement.
About Dr. Bayati
Semira Bayati, MD, FACS earned her medical degree from the Boston University School of Medicine. She then completed her general and plastic surgery residencies at Southern Illinois University School of Medicine, as well as a fellowship at Loma Linda University Medical Center. Dr. Bayati is a member of the American Society of Plastic and Reconstructive Surgeons, the American Society for Aesthetic Plastic Surgery, and is a fellow of the America College of Surgeons. She is also Diplomate of the American Board of Plastic Surgery, and regularly publishes in numerous medical journals.
Dr. Bayati's plastic surgery practice is located at 20311 SW Birch St. Ste. 200 in Newport Beach, CA 92660, and can be reached at (949) 756-0400, or found online at http://www.drbayati.com, or the Cosmetic Surgery Newport Beach – Dr. Bayati Facebook page.
[1] American Society for Aesthetic Plastic Surgery: About ASAPS Members. Retrieved on 4/8/2011 from surgery.org/consumers/about
###