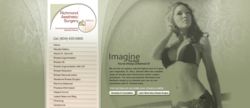 Richmond, VA (PRWEB) May 03, 2011
The most recent study from the American Society for Aesthetic Plastic Surgery (ASAPS) finds 9.3 million cosmetic enhancement procedures were performed in the U. S. in 2010. While nonsurgical procedures decreased slightly from 2009 totals, the number of surgical procedures increased nearly 9%, with breast augmentation accounting for nearly 20% of the overall total. Richmond plastic surgeon Neil Zemmel, MD says he has experienced similar statistical results at his practice, as breast augmentation is his most common procedure at Richmond Aesthetic Surgery.
One reason Dr. Zemmel says he believes breast augmentation is so popular is because the procedure has one of the highest satisfaction rates among all plastic surgery procedures. He says with greater than 94% of patients reporting a highly satisfying result, including women reporting an increase in self-confidence. In order to attain a high satisfaction rate, Dr. Zemmel says he relies on his extensive experience along with the development of an individualized treatment plan to ensure his patients' expectations are met.
Dr. Zemmel adds that patient education is extremely important, which is why he believes in the importance of conducting cosmetic surgery studies and compiling statistics similar to those in the ASAPS 2010 report. Without a correct assessment of the current state of their industry, Dr. Zemmel says plastic surgeons would not be able to provide their patients with explicit, in-depth evaluations based on the latest information and cutting-edge technology and techniques available.
About Dr. Zemmel
Neil J. Zemmel, MD earned his medical degree from the University of Virginia Medical School. He then entered the Plastic Surgery training program at Virginia Commonwealth University Medical Center, where he spent six years studying the latest general and plastic surgery technology. Dr. Zemmel also served as Chief Resident of Plastic Surgery during his final year of training. He has participated in medical missions with Operation Kids, which travels annually to Guatemala to help children in need of cleft palate, cleft lip, and burn reconstruction procedures. Dr. Zemmel is a member of the American Society of Plastic Surgeons; he has also published articles regularly in a range of medical journals, and has lectured on a wide range of topics in the cosmetic enhancement industry.
Richmond Aesthetic Surgery is located at 14051 St. Francis Blvd. #2209 in Midlothian, VA, and can be reached at (804) 435-5866, or found online at http://www.vabreastsurgery.com or the Plastic Surgery Richmond Facebook page.
###