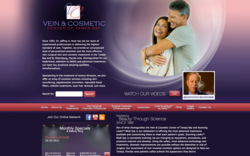 Our special events and service pricing are our way of saying thank you to the patients that make our practice thrive.
Tampa, FL (PRWEB) December 06, 2011
The Vein & Cosmetic Center of Tampa Bay is sponsoring several events throughout the month of December as a way to increase awareness of the safe practice of cosmetic enhancements and to offer reduced rates on aesthetic procedures such as Radiesse®. Dr. Jeffrey Hunt, medical director of the Tampa vein treatment center, says the events will help make cosmetic treatments more available to patients seeking to rejuvenate and revitalize their appearance during a season often loaded with stress and social bustle.
On Thursday, December 8, from 5:30-8:30 pm (EST), the Vein & Cosmetic Center of Tampa Bay will host a Girls Night Out Evening of Beauty at its office location. New patients or current patients who bring a friend or family member that is a new patient will receive a special offer of a complimentary IPL photofacial, a treatment designed to highlight youthful beauty in the face, with every BOTOX® Cosmetic treatment. Patients must spend a minimum of $300, or 30 units at $10 per unit, in order to qualify for the photofacial and must have the procedure before January 31, 2012. A local jeweler will also be at the Girls Night Out to feature her latest designs, as the Vein & Cosmetic Center of Tampa Bay will be giving away a specialty beauty treatment along with a custom piece of jewelry. Dr. Hunt says the event will offer patients the opportunity to learn about the benefits of plastic surgery from qualified and experienced professionals.
For the first 20 patients who call the Vein & Cosmetic Center of Tampa Bay office, a $50 gift certificate for future cosmetic procedures at the practice and ten free units of XEOMIN®, a BOTOX® Cosmetic alternative for facial tightening and wrinkle reduction, will be available. Patients who add Radiesse® the same day will receive $100 off their Radiesse® treatment for renewing facial volume and restoring collagen. A minimum of 30 units - or $300 - of XEOMIN® is required to take advantage of the offer.
Additionally, Dr. Hunt and his practice will be offering $50 off each vial of Sculptra® when patients purchase two or more vials. He says Sculptra® stimulates the skin's fibroblast to regenerate collagen and restore youth and vitality to the face. He adds that it can be an ideal procedure for patients who have lost volume in the cheeks and middle face. The Sculptra® offer is valid through December 22.
Dr. Hunt says his practice will also be offering a reduced price on breast augmentation until December 22. The procedure, performed by Dr. Stanley Castor, a plastic surgeon of the Vein & Cosmetic Center of Tampa Bay, will be available for a limited time at $505 off the normal price.
Dr. Hunt says he is excited about the upcoming events and the chance to extend his services to more patients through special offers and educational experiences. "Our special events and service pricing are our way of saying thank you to the patients that make our practice thrive."
About Jeffrey A. Hunt, D.O., R.V.S.
Dr. Jeffrey Hunt received his medical degree at West Virginia School of Osteopathic Medicine and his post-doctoral training at a three-year family practice residency at Cuyahoga Falls General Hospital in Cuyahoga Falls, OH. He is board-certified by the American Osteopathic Board of Family Physicians and is a Diplomate of the Osteopathic National Boards. Dr. Hunt has performed over 115,000 nonsurgical vein treatments and was instrumental in conducting FDA clinical trials to bring intense pulsed light sources to the United States. He is a Fellow of the American Society of Laser Medicine and Surgery and a member of the American Society of Aesthetic Mesoptherapy, the American College of Phlebology, the American Osteopathic Society, and several other professional organizations.
Dr. Jeffrey Hunt and the Vein & Cosmetic Center of Tampa Bay will also be sponsoring a Toys for Tots Toy Drive at their office to provide underprivileged children with gifts for the holidays. Patients who bring in a toy with a value of at least $20 will receive a $20 Spa Bucks Gift Certificate. Toys should be delivered unwrapped to the office before December 21, 2011. The gift certificate must be used within 90 days.
Located at 3001 N Rocky Point Dr E, Suite 125 in Tampa, FL, Dr. Hunt's practice can be reached at (888) 434-9192. It can also be contacted online via the website veincentertampa.com, veintreatmenttampa.com, or http://www.facebook.com/veincentertampa.
###