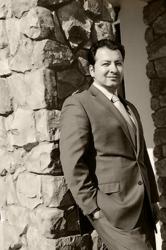 I am always seeking the best way to mesh my surgical training with the latest scientific advancements to help my patients achieve the optimal look and feel that they desire.
Apple Valley, CA (PRWEB) August 31, 2012
Dr. Ali Tehrani, Apple Valley and Inland Empire cosmetic surgeon, is the only cosmetic surgeon in the region to own and be trained on the Palomar SlimLipo Machine. The exclusive nature of this machine allows him to achieve results virtually unseen by other surgeons.
"SlimLipo is a revolutionary advancement that uses laser technology to 'melt' fat and smooth and tighten skin," notes Dr. Tehrani. "The SlimLipo design is perfect for hard to treat areas; it glides through skin easily to better target difficult to reach tissue and help melt it away, making it perfect for smaller areas such as the neck and pectorals."
SlimLipo does not have the same size limitations as other laser-assisted lipolysis devices when treating average to large patients due to the optimized treatment tip design and selective fat absorption wavelength.
"I am very pleased with the achieved results from SlimLipo," notes Dr. Tehrani from his Inland Empire Cosmetic Surgery office. "I am always seeking the best way to mesh my surgical training with the latest scientific advancements to help my patients achieve the optimal look and feel that they desire."
SlimLipo in the Inland Empire is ideal for patients who have busy lifestyles. In fact with SlimLipo the recovery can be so rapid that some patients can return to work the same day. SlimLipo is less aggressive than traditional liposuction with less bruising and trauma to the body; it safely melts fat without damaging the surrounding tissue. With the unique ability to work with smaller incisions than traditional liposuction, SlimLipo promotes faster healing, less bruising, reduced pain, and minimal blood loss and swelling.
"SlimLipo has not only produced amazing results in a less invasive way for my patients, it has also provided beautiful long-lasting body tightening and body contouring in many stubborn areas." says Dr. Tehrani. "As the only owner and trained operator of SlimLipo in the Inland Empire and Apple Valley, my office offers a unique alternative for patients looking for an enhanced figure, without the downtime from traditional liposuction."
Dr. Tehrani holds membership in other professional societies including the American College of Osteopathic Surgeons (ACOS), American Academy of Cosmetic Surgeons (AACS), and the American Osteopathic Association (AOA).
In addition to attaining these three distinguished memberships, Dr. Tehrani was awarded the illustrious Harry Elfonte, M.D. Award for exemplary patient care by Frankford Health Systems/Thomas Jefferson University Hospital. 
More About Dr. Ali Tehrani
Dr. Tehrani attained his Bachelor of Science at the University of California-Irvine prior to entering medical school at Kansas City School of Medicine and Biosciences. He then completed a rigorous general surgery residency in Philadelphia, training at prestigious institutions such as Medical College of Pennsylvania, Deborah Heart and Lung Hospital, and Memorial Sloan Kettering Cancer Center. During his residency Dr. Tehrani was granted top honors, receiving the H. Jeffery Torrigian Award for leadership in the field of surgery at Philadelphia College of Osteopathic Medicine. 
Continuing his surgical training, Dr. Tehrani completed  a Plastic and Reconstructive Surgery Fellowship at the Philadelphia College of Osteopathic Medicine. This opportunity allowed him to work with some of the foremost leaders in the field of plastic surgery. He received his hand training at the Philadelphia Hand Center at Thomas Jefferson University Hospital and trained in pediatric reconstructive surgery at St. Christopher's Hospital for Children in Philadelphia. In addition, Dr. Tehrani has extensive cosmetic surgery training, having been mentored by some of the nation's most sought after aesthetic surgeons in Philadelphia and New York.  This experience has allowed him to bring cutting edge techniques to his clients. 
About Palomar's SlimLipo
The SlimLipo system is FDA cleared for laser-assisted lipolysis and it is the first system optimized specifically for this application.
SlimLipo laser assisted lipolysis allows you to achieve body contouring with fewer contour deformities, smaller incisions, less bruising and less blood loss. Traditional liposuction can be associated with prolonged downtime and side effects for clients depending on the size of the area treated and cannula used, but with the SlimLipo system, downtime is significantly reduced. In most cases, clients can return to work and typical daily activities within a day or two after their laser liposuction treatment.
To learn more about SlimLipo , please visit the society's website at http://www.palomarmedical.com/products/slimlipo.aspx
To learn more about Dr. Ali Tehrani, please visit his Inland Empire Plastic Surgery website at http://www.tehraniplasticsurgery.com.