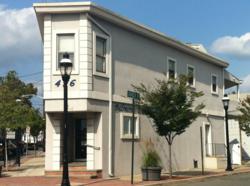 When it comes to his patients, Dr. Lembo has always eagerly stepped forward to accommodate them through excellent dental care and informative content.
(PRWEB) June 25, 2013
It is no secret that Dr. Lembo of Belmont Dental http://www.belmontassociatesnj.com is most definitely one of a kind in his field of dentistry. He was the first dentist in the tri-state area that utilized therapy dogs during his procedures to reduce anxiety. In addition, he has also made a big step forward in fighting periodontal disease by bringing in a specialist, Dr. Michael Jaffin. As Belmont Dental continues to move forward, Dr. Lembo thought it was time to inform his patients on how new health care policies may affect Americans in the future.
Lembo believes that overall health can be improved by regular dental visits as well as properly educating the public of the importance of these procedures. At first, dental care was not a big player at the table when the new healthcare was negotiated, but times have changed and Lembo is looking ahead for his patients. Dr. Lembo of Belmont Dental states: "Unfortunately from my perspective, The Affordable Care Act has some negative provisions such as the 2.3% tax on medical devices. So in essence the new tax is trying to pay for dental care by placing a tax on dental care. At worse, it is estimated that the tax will increase the cost of dental care in America by $160 million per year."
On the brighter side, it looks as though most children in the U.S. will gain dental coverage through the Affordable Care Act if it is indeed passed by the Supreme Court. Lembo adds, "Theoretically, under the Affordable Care Act, eventually every child should be covered. According to an analysis by the Agency for Healthcare Research and Quality, about 18% of American children had no dental insurance coverage in 2006; at that time, there were around 74 million children in the United States. Covering all children with "free" dental care may be a worthy goal, but somebody has to pay for the care and ObamaCare just moves money around - symbolism over substance." Belmont Dental's marketing manager, Route 72 Systems admires Dr. Lembo for informing his client base. Founder, Jim Alamia, states: "When it comes to his patients, Dr. Lembo has always eagerly stepped forward to accommodate them through excellent dental care and informative content. We admire him for his efforts and look forward to watching his practice flourish in the Internet Marketplace with new business sales leads."
Reference:
http://www.belmontassociatesnj.com/patient-information/scheduling/