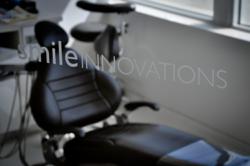 Your smile is your window to the world and the first thing that makes an impression.
Tempe, Arizona (PRWEB) November 26, 2012
Smile Innovations are pleased to offer speedy and cost effective cosmetic dental treatments available at their Tempe, Arizona office. As leaders of cosmetic dentistry, Dr Boyd Patummas, DMD and Dr Linda Ma, DMD offer teeth whitening, bonding, contouring, reshaping and restoring, among other treatments to perfect their clients smile. With the continuous development in dental technology, improving ones smile and teeth is now a very easy fix.
The most popular and cost effective cosmetic dental treatment is teeth whitening. Stained and discolored teeth are very common amongst adults due to a variety of sources. Most discoloration comes from consumption of coffee, red wine, soda, tea, tobacco and different medications. Many individuals try to "whiten" there teeth by intense brushing, generally leading to enamel removal. The most efficient and reliable way to whiten your teeth is by having a cosmetic dentist treat them before the discoloration becomes too severe.
A very quick and efficient service at Smile Innovations is the bonding treatment. This procedure is a quick and affordable way to correct dental flaws such as; cracks, discoloration, gaps, bite pressure and tooth decay. Another way of improving the appearance of teeth is by dental crowns. Crowns can restore the tooth to its original size and shape and can "makeover" an affected tooth.
The benefit to cosmetic dentistry is not only about the appearance, but many treatments can also improve oral problems, such as decay and dental bite. For more information on procedures and treatments visit, http://www.smileinnovation.com