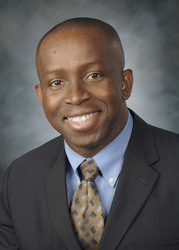 Dr Stanley Okoro has an extensive experience in cosmetic & reconstructive surgery of the breast, body, and face.
Marietta, GA (PRWEB) July 6, 2010
Experienced Plastic & Cosmetic Surgeon, Dr Stanley Okoro relocates his state-of-the-art cosmetic surgical practice to the Atlanta, Georgia. After serving as the Chief of Plastic Surgery at the National Naval Medical Center Bethesda, with a successful practice in the Washington, DC area and serving over 10 years in the United States Navy, he opened a new practice to serve patients in the Atlanta area.
Dr Okoro, a double board certified Plastic Surgeon, completed a rigorous five year training program in Surgery at Emory University after graduating with honors from Meharry Medical College. After his training at Emory, he joined the US Navy and served as the Chief of General Surgery at the US Naval Hospital Great Lakes for four years. After Navy General surgery, he proceeded to complete an additional three-year training program in Plastic & Reconstructive Surgery at the University of Texas Health Science Center, San Antonio. While are UT San Antonio, Dr Okoro was specially trained by many famous surgeons in the most current cosmetic surgery and non-surgical procedures, which he has mastered.
Dr Okoro returned to active duty Navy after successfully completing his plastic surgery training. Achieving the rank of Commander, he served as the Chief of Plastic and Reconstructive Surgery at our "President's Hospital", the world famous National Naval Medical Center, Bethesda, Maryland. While at Bethesda, received the majority of Marine and Navy casualties from the Iraq and Afghanistan conflicts. While also at Bethesda, the headquarters of the National Capital Area Breast Care Center, he established and directed the micro-vascular breast reconstruction surgery. Dr Okoro has performed countless primary and revision cosmetic procedures for these men and women. He is an Assistant Professor of Surgery at Uniformed Services University of the Health Sciences, Bethesda MD.
Dr Stanley Okoro has an extensive experience in cosmetic & reconstructive surgery of the breast, body, and face. He has extensive experience and special interest in breast reconstruction, augmentation, complicated breast surgery, body contouring such as tummy tuck, (abdominoplasty) and liposuction. His Navy and war experience gives him an edge in body and extremity reconstruction. He is a well-rounded plastic surgeon with a world of experience.
Dr Okoro is honest, sincere and easy to get along with. He is certified both by the American Board of Plastic Surgery and the American Board of Surgery. He is a member of the American College of Surgeons and American Society of Plastic Surgeons.
He has received multiple awards, authored many topics in plastic surgery journals, and presented at several local, regional and national plastic surgery conferences. Click here see Dr Okoro's CV (Resume)
In addition to his academic accomplishments, Dr Okoro is a philanthropist. He serves as the Executive Director of Imo Medical Mission, Inc. He organizes and participates in an ongoing volunteer medical and surgical mission to undeveloped countries.
Dr Okoro is a dedicated family man and has been married to his lovely wife Aggie for 19 years. He has 4 wonderful children. Dr. Okoro's looks may be deceiving. He may look young, but he has a world wealth of unmatched knowledge, experience, skills, and surgical wisdom. Dr Okoro brings this vast experience with him to the Atlanta area.
For more information on Dr. Stanley Okoro and procedures such as breast enhancement, liposuction, mommy makeover, and tummy tuck, his practice can be reached at 1790 Mulkey Road, Austell GA 30106 - 770-485-1554 or http://www.georgiaplastic.com
# # #