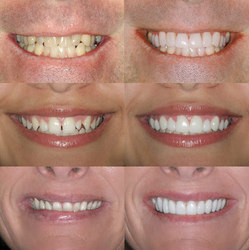 Lumineers is a perfect example of how modern engineering can aid medicine in very practical ways - it is a great leap forward and offers a great alternative to traditional methods
Austin, TX (PRWEB) July 29, 2008
Dr. Michael McCarty of Austin Smiles, one of Austin's leading cosmetic dentists, has introduced in his practice the latest in smile restoration-- "Lumineers". Lumineers is a porcelain veneer which creates a beautiful smile without compromising the structure of your teeth. "I am very excited about this technique, as I believe it improves the quality of a person's life while being safe and painless," explains Dr. McCarty.
Lumineers are porcelain veneers that fit on the surface of your existing teeth. They are constructed out of extraordinarily strong, contact-lens thin porcelain, and are a painless cosmetic solution to permanently stained, chipped, discolored, misaligned, or spaced teeth, transforming them into a naturally white, radiant smile.
Dr. McCarty explains, "While most traditional veneers require your teeth to be ground down to be placed, which is painful and irreversible, Lumineers are placed on top of existing teeth without having to remove or compromise your tooth structure."
In addition to eliminating the pain of traditional veneer procedures, Lumineers can be placed on top of existing crown or bridgework without having to replace them.
Dr. McCarty offers a free consultation for new patients providing them with their options on smile restoration, including Lumineers. "We discuss your specific issues, learn what your goals are, and then decide on the best treatment for your individual case is."
If Lumineers addresses your needs, an impression of your teeth will be made and shipped to the lab. A custom set of veneers will be crafted from the impression. Next the teeth will be lightly etched to prepare for placement, and the Lumineers will be bonded to the natural teeth - with no shots, no drilling, and no pain.
Average treatment time is only two visits, making Lumineers more cost effective than traditional veneers, and they are clinically proven to last over 20 years.
"Lumineers is a perfect example of how modern engineering can aid medicine in very practical ways - it is a great leap forward and offers a great alternative to traditional methods," concludes Dr. McCarty.
Dr. McCarty is a member of the American Academy of Cosmetic Dentistry and a Fellow in the prestigious Academy of General Dentistry. He continually attends advanced courses annually and is a recognized leader in the latest cosmetic dental technologies. To schedule your free consultation, visit http://www.austinsmiles.com.
###