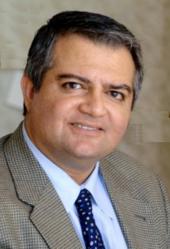 Beverly Hills, CA (PRWEB) July 09, 2012
Parsa T. Zadeh, Beverly Hills dentist, offers dental implant placement in his practice, Beverly Hills Comprehensive Dentistry. Dental implants are artificial teeth attached to titanium posts that are implanted in the jaw. These implants are a natural looking alternative to dentures or bridges. Dr. Zadeh is one of a few dentists experienced in both placing and restoring dental implants. Visit ZadehDentistry.com for more information.
These implants offer several advantages over dentures or bridges. Implants are placed in the jaw in such a way that the support post does not show, which makes them indistinguishable from natural teeth. In addition, implants can be cared for in a similar manner as natural teeth. Implants do not pinch or change speech, and the patient does not have to worry about how they fit. All of these advantages have made implants a much sought after alternative to other dental appliances.
Dr. Zadeh, Beverly Hills dental implant dentist, places implants in a series of appointments. Typically, implants require three or more appointments over two to four months to place, depending on the patient's oral health and the thickness of their jaw bone. Once the implant is placed, it requires little maintenance and is more durable than dentures or other dental appliances. If an implant is cared for properly, it can last over 20 years.
Dr. Zadeh offers many other services in his dental practice, including porcelain veneers, Lumineers, porcelain crowns, dental whitening, gum sculpting, and many other cosmetic and practical dental services. His office offers a complementary consultation to discuss the patient's options.
About Dr. Zadeh
Dr. Zadeh, Beverly Hills cosmetic dentist, graduated with honors from the College of Dental Surgery, Manipal. Dr. Zadeh earned his Mastership of Dentistry award from the Academy of General Dentistry in 2011. Dr. Zadeh has also received numerous regional awards for his excellence in dentistry. In 2008, he was voted the Best Los Angeles Cosmetic dentist. Dr. Zadeh has over 25 years of experience in dentistry.
Contact Dr. Zadeh
You can visit http://www.zadehdentistry.com or call (310) 273-9919 for more information. Dr. Zadeh's office is located at 9100 Wilshire Blvd. suite W448 in Beverly Hills, CA 90212. Fully validated parking is also available under the office as well.