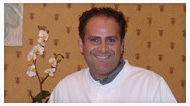 Encino, CA (PRWEB) May 29, 2012
Finding an experienced dentist is not always the easiest of tasks, and this means that countless individuals continue to neglect the treatments and services that only a dental specialist can carry out for healthy teeth and gums. In order to make this choice just a little bit easier Encino dentist, Dr. Ray Partovy, is now offering financing options on all of his leading treatments and services. You can visit BestDentistinEncinoCA.com to learn more about these options.
Growing up, many believe that the key to beautiful teeth and a healthy mouth is the oral hygiene habits that should be carried out at home every single day. Brushing, flossing, and the use of mouth wash are integral to a great health, but they will not always be enough and everyone will need the unique services of an experienced dentist for treatments and procedures such as dental implants, Invisalign aligners, and biannual checkups. For those that would like these services as convenient as possible, Dr. Ray Partovy is now offering financing at some of the lowest APRs to-date.
This dental practice has quickly become one of the most trusted offices in Southern California as they take the time to understand the unique needs of every single patient that walks through their doors, putting them at ease before all of their treatments.
In addition to these basic services, those that are in need of an Encino cosmetic dentist will also find some of the quick and painless options that will transform their smile. This includes Lumineers and the Zoom whitening system, two of the most advanced procedures in the world.
About Dr. Partovy, Cosmetic Dentist Encino
After receiving his Doctorate for dentistry from the UCLA School of Dentistry, Dr. Ray Partovy went on to enjoy over 20 years of experience within this field. He offers all leading treatments and services ranging from full mouth restorations to professional chairside teeth whitening.
Contact Dr. Partovy
For more information about the financing options and the treatments offered by Dr. Partovy, call (818) 975-3300 or visit http://www.bestdentistinencinoca.com. Dr. Partovy's office is located at 18607 Ventura Blvd. in Encino, CA 91356.