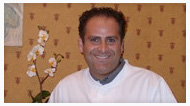 Encino, CA (PRWEB) July 09, 2012
After years of brushing one's teeth and engaging in the countless habits that will keep a smile bright and healthy, it can be devastating for an individual to realize that their appearance is not quite what they would like it to be. From gaps in between one's teeth to severe discoloration or fractures, everyone will need professional dental treatments throughout their lifetime in order to smile, eat, and speak with confidence. This is why one trusted Encino dentist, Dr. Ray Partovy, is now offering all patients the chance at a reinvented smile with huge savings on all Lumineers.
Dental veneers have remained one of the most popular and effective dental appliances for countless patients. These thin pieces of porcelain are custom made for every single patient and applied directly to the teeth with a powerful bonding agent. They can be used to restore one's appearance after any amount of damage or decay, but they do come with some drawbacks, including the need to permanently alter the outer layers of the teeth. With Lumineer veneers, many of these drawbacks are now no longer a concern.
As a seasoned Encino porcelain veneers dentist, Dr. Ray Partovy can often apply these veneers to the teeth in as little as two visits. With no alteration or shots necessary, all patients can now enjoy a completely restored smile. In addition to these advanced appliances, this dental practice also provides its patients with a slew of other procedures and treatments including dental implants, Zoom whitening, and more.
About Dr. Partovy, Cosmetic Dentist Encino
Ray Partovy DDS, Encino cosmetic dentist, is a proud graduate of the UCLA School of Dentistry and enjoys over 20 years of experience within the field. He and his friendly staff have created a welcoming atmosphere that puts patients at ease from the moment that they walk through the doors. They are ready to provide a full line of services ranging from biannual checkups to advanced Invisalign aligners and other restorative dentistry treatments.
Contact Dr. Partovy
Visit http://www.bestdentistinencinoca.com or call (818) 975-3300 for more information. Dr. Partovy's office is located at 18607 Ventura Blvd in Encino, CA 91356.