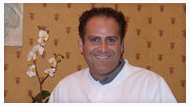 Encino, CA (PRWEB) August 20, 2012
As the summer slowly begins to come to an end, schools are starting up, and individuals are beginning to consider exciting holiday events, this is a time that many are looking for ways in which they can change their look around and enjoy a boost to their confidence unlike ever before. For those that are unsure of where to turn to quickly brighten their smile and remove unwanted discoloration and stains, Encino cosmetic dentist, Dr. Ray Partovy, is now providing all new patients currently covered by PPO insurance with free teeth whitening services during their initial dental exams.
Teeth staining is a very serious cosmetic issue that many patients will have to deal with at some point in their life. Regular brushing and flossing as well as biannual trips to a local dentist will prevent a majority of this staining, but nearly all of the foods that one consumes as well as many of the other habits that they engage in can lead to a smile that has become discolored over time. For these patients, it will require professional whitening services to quickly, painlessly, and effectively remove moderate to severe staining.
As a trusted Encino teeth whitening dentist, Dr. Partovy continues to help patients throughout the area with all of the most essential general and cosmetic services that they need for a bright and healthy smile. Along with a friendly staff and welcoming environment, many locals now head to this dental practice for services including Zoom whitening, Lumineers, dental implants, Invisalign aligners, and more.
From the moment that a patient is covered by a PPO insurance policy, they will begin to have access to the affordable and popular dental treatments that they need, including the free whitening services that are now offered by this experienced dentist. You can visit BestDentistinEncinoCA.com, Encino dental office, for more information about this office.
About Ray Partovy DDS, Encino Zoom Whitening Specialist
For over 20 years, Dr. Ray Partovy has been assisting patients with a number of dental treatments and services in order for them to enjoy a healthy and beautiful smile throughout their lifetime. In addition to ongoing specials on many of the most popular procedures, he also takes the time to build a lasting relationship with each of his patients in order to provide them with the best medical assistance possible.
To learn more about this offer, visit http://www.bestdentistinencinoca.com or call (818) 975-3300. Dr. Partovy's office is located at 18607 Ventura Blvd. in Encino, CA 91356.