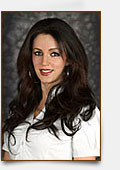 Los Angeles, CA (PRWEB) November 12, 2012
Stained teeth are extremely common and are most frequently due to lifestyle habits. Coffee, tea, cola, berries, curries, energy drinks and tomato sauce are some of the most common culprits when it comes to staining dental enamel, but smoking and tobacco use are also serious offenders. Because stained teeth can be aging and aesthetically unappealing, many people are seeking effective, affordable whitening solutions. Wilshire Dental Care, Los Angeles dental practice, is now offering a Zoom Whitening special that can help patients achieve their whitest smile ever in just about an hour.
For just $185, patients can brighten their teeth by as much as eight shades. A professional cleaning may be necessary first to ensure the whitening solution can penetrate more evenly, and then the teeth will be prepared. The Zoom whitening solution is carefully painted on teeth before a special light is used to activate the solution and send it deep into the enamel and dentin of teeth, where stains are broken up and lifted away.
Normally $650, Wilshire Dental Care's Zoom special effectively prices this powerful treatment so that everyone can roll back time and enjoy a brighter, whiter, more confident smile. Zoom whitening may not be appropriate for all patients, but other whitening options are also available, including take-home whitening trays and porcelain dental veneers. Dr. Ghasri, Los Angeles Zoom whitening dentist, can help patients determine the best whitening solution to meet their unique needs.
Dental veneers may be more appropriate for those who are suffering from intrinsic stains, or stains caused by medication, fluorosis or trauma. After teeth are prepared, wafer-thin porcelain shells are bonded to them in order to perfect their appearance. Dental veneers are stain resistant, extremely durable and may last 20 years or more when properly maintained.
About Dr. Ghasri, Cosmetic Dentist Los Angeles
Dr. Ghasri, Los Angeles teeth whitening specialist, is a UCLA graduate, where she received a bachelor's degree in Neuroscience before completing her DDS at UCLA's School of Dental Surgery. She has completed advanced training in the field of cosmetic dentistry, including courses in Invisalign, Lumineers and dental implant reconstruction. She works with a team of general dentists and dental specialists to create full-mouth restorations and is considered one of the area's top cosmetic dentists.
Visit Wilshire Dental Care, located at 6200 Wilshire Blvd., Suite#1508 in Los Angeles, CA 90048. You can also call (310) 775-2979 or visit http://www.wilshiredentalcare.com for more information.