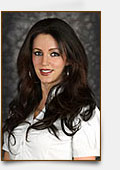 North Hollywood, CA (PRWEB) October 08, 2012
All individuals would like a brighter and more vibrant smile, but creating that perfect smile can be a difficult task. Some habits, foods, and beverages can affect the appearance of the teeth as well. North Hollywood cosmetic dentist, Dr. Poneh Ghasri, is now offering a fall teeth whitening special for as low as $89 to help individuals achieve that bright smile.
Teeth may appear to have a smooth and uniform appearance, but the outer enamel is extremely porous. Tooth-staining debris can gradually collect in these microscopic fissures. Any number of other habits, such as the use of tobacco products, could also attack the enamel and expose the yellow or discolored dentin layer of the tooth. Dr. Ghasri, North Hollywood teeth whitening specialist, offers professional treatments to address this problem.
Poneh Ghasri DDS, North Hollywood Zoom whitening expert, and the rest of the team at NoHo Dental Group offer effective treatment options to restore smiles, no matter what amount of staining, decay, or other forms of damage have taken place. Along with this affordable chair-side whitening special, NoHo Dental Group also offers provides patients with cosmetic services including dental implants, Lumineers, porcelain crowns, Invisalign aligners, and more.
Those that are no longer comfortable with the state of their teeth will often begin to avoid social interactions. This is why this leading team of dental specialists is now offering various restorative treatments at prices that will fit any budget.
About Dr. Ghasri, Cosmetic Dentist North Hollywood
Dr. Poneh Ghasri quickly became one of the leading cosmetic dentistry specialists in Southern California after graduating from the UCLA School of Dentistry. She and the rest of the staff at NoHo Dental Group take the time to understand the unique needs of every single patient and then create a treatment plan that may include porcelain veneers, a Zoom whitening treatment, tooth-colored fillings, crowns, and more.
Visit NoHo Dental Group at 11126 Chandler Blvd. in North Hollywood, CA 91601, or call (818) 824-8228 for more information. You can also visit http://www.bestnorthhollywooddentist.com.