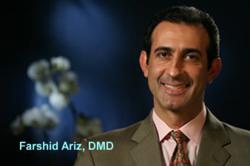 Northridge, CA (PRWEB) December 13, 2011
For those that are unhappy with the appearance of their teeth, the winter season can be a trying time. Family dinners or any other social functions will quickly turn into a point of discontent when an individual feels as if their teeth are not as bright or straight as they would like. This is why the experienced team of dentists at Northridge Dental Group is now offering Zoom Whitening specials just in time for the holidays.
Dr. Arami, Cosmetic Dentist Northridge
As the leading cosmetic dentist in Northridge, Dr. Arami and his colleagues understand the anxiety that patients may feel if they are uncomfortable with the appearance of their teeth or nervous about setting that appointment for the dental office. The team of specialists at Northridge Dental Group understand this problem and are offering the Zoom teeth whitening system at a new special rate
The moment that the patient steps out of the office of this experienced Northridge dentist, they are going to realize some of the benefits of this highly effective teeth whitening system. Zoom utilizes cutting edge dental technology to brighten teeth by as much as eight shades in under an hour.
Even with these amazing results and a pain-free procedure, many may still be anxious. This is especially true for those with disabilities. To bypass this uneasiness, Dr. Arami understands that as a top Northridge cosmetic dentist, options must be given to the patients to make them as comfortable as possible the moment they walk through the door. Whether patients are looking for a routine checkup or to completely redo their smile with porcelain veneers, there are safe and pain-free alternatives to any procedure. This includes nitrous oxide and intravenous sedation. These options are the perfect solution to patients of all types that wish to bypass any anxiety that they may be feeling.
Finding a dentist in Northridge that understands the needs of every one of their patients is no longer a chore. Dr. Amari and Dr. Ariz of Northridge Dental Group are making it easier than ever to bring out that bright, healthy, and perfect smile that everyone deserves.
Contact Dr. Arami and Dr. Ariz, Dentist Northridge
For more information about Zoom whitening and other treatments offered at Northridge Dental Group, visit http://www.northridgedentalgroup.com or call (818) 626-3388. Northridge Dental Group is located at 9801 Balboa Blvd in Northridge, CA 91325.
PR by http://www.seocompanyca.com
###