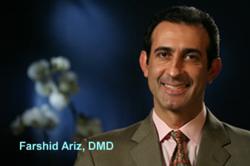 Northridge, CA (PRWEB) May 07, 2012
Many individuals throughout Southern California struggle with dingy or discolored teeth. In order to help these patients achieve the smile of their dreams, Northridge dentist, Dr. Arami, is now offering a full line of bleaching and whitening treatments for brighter, more vibrant teeth.
Teeth can become stained and discolored for any number of reasons. No matter how many trips an individual takes to their dentist, there are countless habits that can slowly begin to take a toll on the outer layers of enamel and dentin. Luckily, with options such as Zoom whitening being offered by this Northridge cosmetic dentist, this type of discoloration is not something that anyone needs to struggle with.
Northridge Dental Group has built its unparalleled reputation with a multi-faceted team of dentists that offer a full line of general, cosmetic, and restorative services. For those with deeper or more severe discoloration, options such as porcelain veneers may be the perfect solution for a renewed and restored smile. Patients that are in need of major oral surgery are also going to benefit from some of the advanced and effective treatments that are going to lead to a bright, straight, and healthy smile. This includes dental implants, bonding, bridges, dentures, dental crowns, and more.
The leading whitening and bleaching treatments offered by the team at YourNorthridgeDentist.com now allows all locals to brighten their smile.
About Dr. Arami, Cosmetic Dentist Northridge
After graduating from the University of California, Los Angeles School of Dentistry, Dr. Shahdad Arami has gone on to pursue all of the most advanced dental treatments in order to help each of his patients achieve the smile of their dreams. He and his team offer a full line of services ranging teeth whitening to Invisalign aligners.
About Dr. Ariz, Dentist Northridge
Immediately after graduating from the Boston University School of Dentistry, Doctor Farshid Ariz quickly become one of the most trusted dentists in Southern California with extensive expertise in implantology, esthetic implant surgery, esthetic periodontal therapy and full mouth reconstruction.
Contact Northridge Dental Group
You can call (818) 626-3388 or visit http://www.yournorthridgedentist.com to learn more about these teeth whitening treatments. Northridge Dental Group is located at 9801 Balboa Blvd. in Northridge, CA 91325.