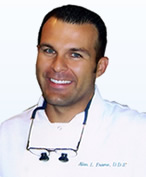 Santa Clara, CA (PRWEB) January 14, 2013
Dr. Frame, dentist in Santa Clara, now offers Invisalign aligners to patients seeking a treatment to fix misalignment issues with their teeth. Invisalign aligners offer a number of advantages over traditional metal braces. Because they are made from transparent plastic, they are virtually unnoticeable. In addition, Invisalign aligners can be removed, so patients can continue eating their favorite foods without fear of the food snapping the wires or getting caught in the brackets. Patients can also remove the aligners to brush and floss their teeth, which improves oral hygiene and may decrease a patient's risk for developing cavities. Invisalign aligners also may move teeth faster and more efficiently than metal braces.
The process of fitting a patient with Invisalign aligners begins with a thorough examination. Dr. Frame, Santa Clara Invisalign provider, takes several images of the patient's teeth. He then uses specialized software to develop a series of customized aligners. This information is transmitted to a dental laboratory where the aligners are made. Approximately every two weeks, Dr. Frame will give the patient a new set of aligners that will move the patient's teeth slightly closer to their final position.
Dr. Frame, cosmetic dentist in Santa Clara, also performs a number of other dental procedures. He places dental implants for patients with missing teeth; performs teeth whitening procedures to remove years of stains and discoloration; fits patients with ceramic veneers to cover badly stained, misshapen, or poorly spaced teeth; treats and fills cavities, and places crowns and bridges.
Dr. Frame is a native of Santa Clara. He graduated with highest honors from the Dental School at the University of the Pacific. He is an active member of the American Dental Association, in addition to two academic dental fraternities: Tao Kappa Omega and Omicron Kappa Upsilon.
Dr. Frame, Santa Clara teeth cleaning specialist and his highly skilled staff have helped hundreds of patients with their teeth alignment and bite problems. Contact Dr. Frame's office to schedule a consultation for Invisalign aligners, and find out how they may help you achieve the even smile you have always dreamed of.
Contact
Alan Frame, DDS
1171 Homestead Road, Suite 214
Santa Clara, CA 95050
Phone: (408) 244-3562
Website: http://alanframedds.com