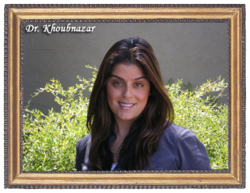 Santa Monica, CA (PRWEB) December 27, 2011
The new year is a time for starting over and making improvements. Therefore, Santa Monica cosmetic dentist, Dr. Khoubnazar, is offering several specials for the New Year. These specials range from basic dental treatments to cosmetic procedures. Depending on the particular treatment, some restrictions may apply.
For only $49.00, new patients can visit this Santa Monica dentist to get basic x-rays and a dental exam. Since the regular price is $185.00, this is a savings of a whopping $136.00. This is ideal for men and women who are on a limited budget or for those who are on the lookout for a great deal.
Teeth whitening procedures are more popular than ever, which is why Dr. Khoubnazar, dentist in Santa Monica, is offering two different specials. The first is a coupon to get a teeth whitening procedure, such as teeth bleaching, for only $85.00. To get this price, the procedure must be used in conjunction with an examination and cleaning. Zoom teeth whitening is the most effective and rapid whitening method that can be performed by this cosmetic dentist in Santa Monica. It is being offered for $179.00.
Finally, there is a gift certificate worth $100.00 that can be used toward any dental treatment. This is being extended to new patients only on copayments of $450.00 or above. Patients must present the coupon and it cannot be combined with any of the other specials.
About Dr. Khoubnazar, Cosmetic Dentist Santa Monica
Dr. Sanaz Khoubnazar places a high priority of making sure that each patient is as comfortable as possible during their visit to the office. She keeps abreast of the latest advancements in dentistry, so she can administer the best level of care to each and every patient. Dr. Khoubnazar graduated from one of the best dentistry schools is the county, Temple University School of Dentistry. She has extensive experience in a variety of disciplines including dental implants, Invisalign braces, full mouth reconstruction and cosmetic dentistry. In addition, Dr. Khoubnazar has been recognized with the honor of "Top Dentist" in 2009.
Contact Dr. Khoubnazar, Dentist Santa Monica
You can call (310) 829-0808 or visit http://www.smilessantamonica.com for more information about Dr. Khoubnazar and the treatments she offers. You can also visit her office, located at 2915 Santa Monica Blvd., Suite 3 in Santa Monica, CA 90404.
PR by http://www.seocompanyca.com
# # #