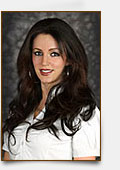 West Hollywood, CA (PRWEB) March 26, 2012
Many locals that have been in search of ways to straighten their teeth for that smile of their dreams have not found the exact treatment that they would like. While traditional metal braces have been an important component within the field of dentistry for many years, some patients would like to avoid the discomfort or look that is associated with them. This is why the most trusted West Hollywood cosmetic dentist, Dr. Ghasri, is now offering the most advanced system for straightening teeth, Invisalign aligners.
Those with crooked teeth or misaligned teeth will often miss the countless social actions that give people a reason to smile every day. It may cause a major blow to one's level of confidence and happiness if they feel the need to hide their smile. On top of this, misaligned teeth can also cause a myriad of other oral health conditions such as chronic headaches or an uneven bite. As a West Hollywood dentist that is devoted to the health and happiness of her patients, Dr. Ghasri has taken the time to study advanced training in the use of Invisalign aligners and is now a preferred provider.
These nearly-invisible trays are completely removable and only need to be switched every two weeks. Patients can then achieve a world-class smile and still enjoy their favorite foods and a comfortable life.
Dr. Ghasri and the team of dentists at Sunset Plaza Dental also provide a full line of services including dental implants, Lumineers, and Zoom whitening. Locals that are in need of a brighter and straighter smile are now enjoying the benefits of an experienced dentist and an advanced new straightening system.
About Dr. Ghasri, Cosmetic Dentist West Hollywood
Dr. Poneh Ghasri has graduated from the UCLA School of Dentistry and gone on to study some of the most advanced cosmetic and restorative dentistry techniques. She is a preferred provider for Invisalign and caters to patients of all health conditions. She offers services ranging from porcelain crowns to chairside whitening and Invisalign.
Contact Dr. Ghasri, Dentist West Hollywood
Visit http://www.sunsetplazadental.com or call (310) 873-3787 to learn more about Invisalign aligners. Sunset Plaza Dental is located at 8539 Sunset Blvd., Suite 16 in West Hollywood, CA 90069.