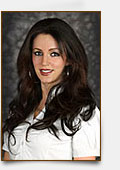 West Hollywood, CA (PRWEB) February 12, 2013
Whether single or coupled up, Valentine's Day can be a great time to put one's best foot forward. An extra spring in a step and a little more sparkle in a smile can go a long way towards boosting self-confidence and appeal. West Hollywood teeth whitening, Dr. Poneh Ghasri is now offering a Valentine's Day teeth whitening special to help people stop stains in their tracks before they have a chance to mar the excitement, fun and romance of the holiday.
Zoom whitening is an in-office whitening procedure that can substantially lighten teeth by as much as eight to ten shades in just about an hour. Patients will have their teeth cleaned in order to remove any deposits that could affect whitening results, and then the bleaching gel will be applied and activated, which sends it deep into the teeth to lift away stains caused by nicotine, colas, coffee, tea and other beverages, foods and lifestyle habits.
Other treatments and procedures are also available to help achieve a healthier, more beautiful smile. Invisalign aligners can straighten teeth comfortably and without the noticeable wires and brackets of traditional braces. Aligner trays are replaced every two to three weeks, which reduces orthodontic visits, and removable trays allow teeth to be kept cleaner and healthier throughout the treatment period. Dr. Ghasri, West Hollywood porcelain veneers specialist, uses veneers to transform a damaged, worn or stained smile to a brilliant and beautiful one. Missing teeth can be replaced using traditional dental bridges and dentures or with revolutionary dental implants, which replace the root of the missing tooth for a permanent restoration that can strengthen the jawbone and improve dental health.
About Poneh Dr. Ghasri, Cosmetic Dentist West Hollywood
A graduate of the prestigious UCLA School of Dentistry, Dr. Poneh Ghasri has earned the honor of being recognized as a Top Lumineers Dentist. She has continued her training in the field of cosmetic dentistry and restorative dentistry in order to provide her patients with the advanced techniques and procedures they need to enjoy unparalleled dental health and stunningly beautiful smiles. Celebrities are counted among her patients, and she is considered a top West Hollywood dentist.
Contact
Sunset Plaza Dental
Dr. Poneh Ghasri, DDS
8539 Sunset Blvd, Suite 16
West Hollywood, CA 90069
Phone: (310) 873-3787
Website: http://www.sunsetplazadental.com