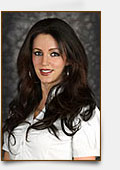 West Hollywood, CA (PRWEB) August 13, 2012
There are a number of pervasive oral health conditions that cannot be prevented, even with perfect hygiene habits at home. While brushing and flossing is the cornerstone of a great smile and impeccable oral health, countless individuals continue to struggle with malocclusion, or a severely misaligned smile. Patients that would like to avoid the use of metal braces are now offered huge discounts on Invisalign aligners by West Hollywood Invisalign provider, Dr. Poneh Ghasr i.
The Invisalign system has quickly gained popularity with dentists and patients alike due to the many benefits it has over traditional metal braces. Unlike braces that require the patient to avoid certain foods, Invisalign trays can be removed at any time so that patients can enjoy all their favorite foods. In as little as a few months, patients will begin to notice their smile becoming transformed before their eyes with nearly invisible trays.
West Hollywood cosmetic dentist, Dr. Poneh Ghasri and the team of specialists at Sunset Plaza Dental have helped locals of all ages with the professional treatments and services they need to once again enjoy a bright, straight, and healthy smile. In addition to specials now offered on Invisalign aligners, patients are offered a number of affordable restorative options including dental implants, Lumineers, porcelain dental veneers, Zoom whitening, and more. Visit SunsetPlazaDental.com, WeHo Dental Practice, for more information.
A misaligned smile can be difficult for anyone to deal with, but metal braces are one solution that many patients would like to avoid. With the huge discounts that are now being offered on the Invisalign aligner system, those that would like a straight and balanced smile can now do so with this popular and effective treatment option.
About Dr. Ghasri
After graduating from the UCLA School of Dentistry with her Doctorate of Dental Surgery, Dr. Poneh Ghasri quickly rose to prominence in Southern California with an overwhelming dedication to every single one of her patients. Working alongside a team of multi-specialty dentists at Sunset Plaza Dental, West Hollywood dental office, this friendly staff offers all of the leading oral treatment options including dental veneers, crowns, dentures, bridges, chairside whitening, and more.
You can call (310) 873-3787 or visit http://www.sunsetplazadental.com for more information about these treatments. You can also visit Sunset Plaza Dental, located at 8539 Sunset Blvd. suite 16 in West Hollywood, CA 90069.