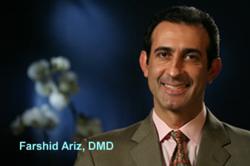 Northridge, CA (PRWEB) August 13, 2012
There is one prevalent oral health condition that many individuals will be forced to deal with at some point in their life, and that is tooth loss. This condition is not only common, it can take a serious toll on an individual's confidence as well as lead to a number of other health complications. Knowing where to take that first step for a complete smile restoration can be difficult though, and that is why Farshid Ariz DDS, Northridge dental implants specialist, is now offering complimentary consultations for all multiple and single dental implant procedures.
A number of the leading health issues that take place within the mouth can be avoided with regular hygiene habits that are carried out within the home as well as the use of safety equipment whenever possible. Even when all of this care is taken though, studies conducted by the American Dental Association have shown that nearly 48 percent of all adults will lose up to six of their permanent teeth by the time they reach the age of 65. When left untreated, this tooth loss could lead to issues with a misaligned bite pattern, neck pain, facial sagging, and chewing disorders. In order to make the restoration process more affordable than ever, Dr. Ariz is offering all patients the chance at a complete smile with complimentary consultations for implants.
Shahdad Arami DDS, Northridge cosmetic dentist, and Dr. Farshid Ariz have worked with countless patients over the years, providing them with some of the most effective general and cosmetic dentistry services in the world. This includes options such as professional teeth whitening, teeth bleaching, Zoom whitening, dental veneers, Invisalign aligners, and implants.
About Dr. Ariz and Dr. Arami
Dr. Shahdad Arami, Northridge Invisalign provider, is a proud graduate from the University of California, Los Angeles School of Dentistry and enjoys nearly 20 years of hands-on experience within the field of dentistry.
After graduating from the Boston University School of Dentistry, Dr. Farshid Ariz quickly went on to specialize in advanced treatment options including implantology and osseointegration.
You can visit Northridge Dental Group at 9801 Balboa Blvd. in Northridge, CA 91325. You can also call (818) 626-3388 or visit http://www.yournorthridgedentist.com.