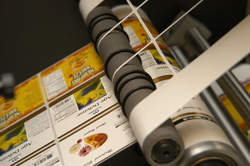 Orange, CA (PRWEB) July 15, 2008
Using lean manufacturing principles, the California label manufacturer, Labeltronix, is helping companies become profitable in today's economy with its innovative Lean Labeling program. Available only at Labeltronix, Lean Labeling is a breakthrough concept. Taking the best ideas from lean manufacturing, Lean Labeling is a combination of the latest in label manufacturing technology and new thinking.
Consumer product manufacturers of food, wine, nutritional supplements, cosmetics, and personal care products no longer have to order more labels than they really need just to get the best price. Companies can now order small quantities of labels when they need them, get them quickly, and thereby reduce waste and inventory costs.
Eric Shepard, co-founder of Labeltronix explains, "Because of new thinking, state-of-the-art label manufacturing technologies and the way we designed our plant; customers can get a great price on short runs of labels and get them in a matter of a few days. We are helping our customers improve their bottom line by producing only the labels they need just-in-time and offering pricing as if they bought a lot of labels from us. Our new approach offers our customers more flexibility and cost savings in these challenging economic times."
The benefits of this type of label printing are numerous:

Fixed label price regardless of order size.
Quick delivery. High quality labels can be delivered in days, not weeks.
Increase flexibility by changing information on labels as often as needed.
Reduce waste. Order only labels as needed. No more throwing away labels that have the wrong information printed on them.
Reduce inventory costs. Save money by not having to store boxes of labels that may not ever be used.
To come up with the novel idea of Lean Labeling, Labeltronix interviewed customers for a year asking them what they wanted. Taking the results of these interviews, they then developed their program and bought state-of-the-art equipment, all digital in format with a quick set-up time.
This dedication paid off in 2006 when Labeltronix won a national award from Converter magazine for their innovative approach to helping customers with their Lean Labeling concept.
Labeltronix works as a strategic partner with companies to help them put together a strategic plan to lower their annual label costs using their Lean Labeling programs.
To learn more about Lean Labeling, go to http://www.Labeltronix.com.
About Labeltronix
Since 1993, Labeltronix has delivered the promise of quality and reliability in every customer solution it creates for consumer product manufacturers of food, wine, nutritional supplements, cosmetics, and personal care products. Labeltronix is Southern California's leading provider of labels, labeling systems and supplies, service and technical support. It has become the single-source supplier for all of its customers - its labeling experts don't simply follow the trends; they set them.
###