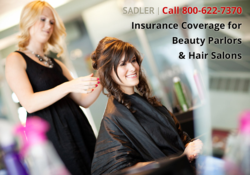 beauticians and salon owners now have secure options that they can feel fully protected
Columbia, SC (PRWEB) April 24, 2013
FastBusinessInsurance.com, the small business liability insurance division of Sadler & Company, Inc., announced today that beauty parlor & hair styling salon insurance quotes are now being offered through their website. Beauty parlor & hair styling salons, which include services such as hair cutting, coloring, and styling, now have options to apply on the FastBusinessInsurance.com website for policies specifically designed for their industry.
"Beauty parlors & hair styling salons face a variety of risks," says John Sadler, president of Sadler & Company, Inc. "For example, customers who visit beauty parlors & hair styling salons may experience injuries should the premises or location be in poor condition or unsecured. Depending on the types of services offered, operation's liability may exist. Customers may become injured during a massage or electrolysis session. If tanning services are offered, salons may face lawsuits for customer health problems resulting from excessive UV-ray exposure, including skin cancer. Professional Liability Coverage is also available, as hair stylists & estheticians may face lawsuits if they make mistakes while performing their routine services. Many beauty parlors and hair styling salons also need adequate Property Insurance Coverage to protect them from losses resulting from fire, theft, vandalism, etc... and until now, few options have been available to allow them to get policies designed for the cosmetology industry."
Prospects for this type of beauty parlor & hair salon insurance policy now have the option to complete a simple one page quote form, according to Sadler, and will receive a quote from an "A" rated carrier that specializes in the beauty parlor & hair salon niche.
According to A.M. Best, the organization that issues ratings to insurance companies in response to evaluation of how financially solvent the companies are to meet their claim obligations, "A" rated carriers are those that have been evaluated to be "Excellent" or "Superior" in financial solvency and ongoing ability to meet their insurance obligations to their policyholders.
"Combine the security of 'A' rated carriers with the specialized policies for beauty parlors and salons, and you see why beauticians and salon owners now have secure options that they can feel fully protected by," continued Sadler.
Available coverages from FastBusinessInsurance.com include General Liability, Workers' Compensation, Crime, and Property. For more information about the insurance coverage available for beauty parlors and hair salons or other small business insurance policies, visit our website or call us toll free at 800-622-7370.
About Sadler & Company, Inc.
Sadler & Company, Inc. is an independent agency located in Columbia, SC that specializes in placing commercial property & casualty insurance through selected web niches. Its president, John Sadler, holds the CIC professional insurance designation and graduated. Magna Cum Laude from University of South Carolina with a major in insurance and finance in 1983 and the University of South Carolina School of Law in 1986.
Contact Information
John M. Sadler
Sadler & Company, Inc.
http://www.sadlerco.com/
Local: 1-803-254-6311
Toll Free: 1-800-622-7370