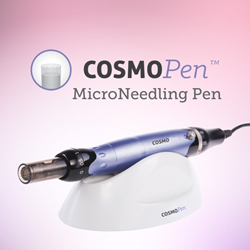 Formerly a big believer in laser resurfacing modalities I'm seeing greater patient satisfaction with minimal downtime, less hand holding and greater patient satisfaction with the Cosmopen. - Patricia DelloRusso, RN
Miami, FL (PRWEB) August 11, 2014
Microneedling, also known as Skin Needling or Collagen Induction Therapy (CIT), is a non-invasive aesthetic procedure for skin rejuvenation. The procedure creates several micro channels (or micro-wounds) into the skin that stimulate the body's own healing responses. Through this stimulation, new collagen is produced to fill the micro channels in the skin.
Microneedling treatments are used for:

Reducing scars (including hypertrophic scars) caused by acne, surgery or thermal burns
Decreasing the appearance of stretch marks
Hair Regrowth
Reducing fine lines and wrinkles
Hyper pigmentation e.g. in melasma
Tightening sagging skin
…and for overall facial rejuvenation
Many skin experts compare the outcomes of microneedling to more expensive treatments, such as fractional lasers, as an attractive alternative because of the decreased downtime and costs.
"Microneedling is an important service to offer in any aesthetic practice and can be performed by the physician or a physician extender-- it is a wonderful standalone procedure for patients looking for facial rejuvenation, treatment of acne scars or irregular skin, and / or improvement of pigmentary problems. I also offer microneedling for patients looking for an effective alternative to lasers. These patients may have high risk skin types or just not want to go through the recovery of a laser procedure. One of the most attractive attributes of microneedling procedure is its affordability, which makes it more accessible to many patients."
-Kian Karimi MD
The Cosmopen is a state-of-the-art device that is 20% faster than most first generation micro needling devices (which still make up for most pens currently available on the US market).
The CosmoPen is a trans-dermal penetration device that allows for office-based treatment of many different skin conditions in a rapid and precise manner with minimal pain and minimal downtime.
The CosmoPen has two adjustable settings; one which adjusts the depth of the 12 stainless steel needles on each disposable cartridge from 0.25 mm to 2.5 mm, and one that adjusts for the speed of the oscillations of the head up to 110 cycles / second (Hertz). The CosmoPen maintains its speed and reliable microneedling by having a corded power source. When topical creams or solutions are placed on regular skin, approximately 3% of the active ingredients are absorbed. After a microneedling procedure, up to 90% of the active ingredients can be absorbed. This allows for far more effective treatment of common skin conditions. Cosmofrance's MesoMedica active solutions are specifically designed for different treatment protocols for hyperpigmentation, skin rejuvenation, acne scarring, and male-pattern baldness.
The Cosmopen ROI is really fast and patient satisfaction is high. Cosmofrance's advantageous pricing structure allows aesthetic providers to start increasing revenues immediately while offering a safe, effective and affordable treatment option to patients.
CosmoFrance inc, established in 1997 in Miami FL, specializes in the import and distribution of medical devices designed exclusively for non-surgical aesthetic procedures. The Dermasculpt® blunt-tipped Microcannulas are their most well-known products. Cosmofrance will be exhibiting at the upcoming American Society for Dermatologic Surgery (ASDS) meeting in San Diego November of 2014 and at the American Academy of Dermatology (AAD) in San Francisco in March of 2015.