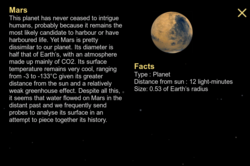 Fairfax, VA (PRWEB) September 11, 2012
NewsWatch, a national television show, recently aired a news segment this week that took a look at a new and innovative apps called Cosmos Story. Cosmos Story is the first guided app of the night sky that requires no prior knowledge of Astronomy.
Just like the rover Curiosity is exploring Mars, consumers can now venture into space, enjoy the wonders of the night sky and see stars far beyond the capability of the naked eye.
Designed for the iPad and iPhone, Cosmos Story is the first audio and visual gateway through the galaxy and beyond. More than an astronomy app, Cosmos Story is narrated by an astronomer and combines details describing time and space with tangible facts all consumers can relate to. While each tour is played, Cosmos Story reproduces the position of stars in real time, providing observers with a clear vision of the night sky. Observers can either set their device down and gaze into the sky, or use their iPhone or iPad as a tool to visualize the stars that surround them. It even works indoors. To see the video on cosmos story, click here: Cosmos Story NewsWatch Segment
Designed in France, Cosmos Story has already been recognized as the second most downloaded app in that country. So whether on a date, spending quality time with your children, or ready for the ultimate stay-cation, Cosmos Story Vol. 1 lets anyone understand and appreciate the universe we share. The complete Cosmos Story app can be downloaded for $2.99 from the iTunes App Store.
NewsWatch is a weekly 30-minute consumer oriented television show that airs nationwide. NewsWatch regularly features top travel destinations, health tips, technology products, medical breakthroughs and entertainment news on the show. The show airs in 180 markets nationwide as well as all of the top 20 broadcast markets in the country, and is the preferred choice for Satellite Media Tour and Video News Release Distribution. For more information, head to newswatchtv.com