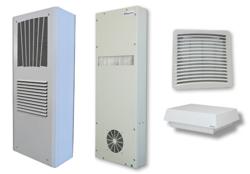 We have always been committed to bringing the most innovative, quality-driven cooling solutions to those serving in a range of industries. We look forward to establishing long-lasting relationships with customers in the United States. John York, Cosmotec
Frederick, Md. (PRWEB) January 29, 2013
Cosmotec, a global technology leader and provider of innovative industrial thermal management products, has announced the establishment of Cosmotec's North American operations center in Frederick, Md. The creation of the North American arm of Cosmotec this month will mark the first entry of this $60 million international corporation into the North American marketplace.
Founded in 1989, Cosmotec has established a significant global presence and expertise in the development of energy efficient cooling solutions. Its products can be found in many of the world's largest industrial applications, including automation, defense/security, petrochemical operations and telecommunications. The company is also one of the largest cooling technology leaders in Europe and Asia.
Cosmotec products that will be immediately available to North American audiences include indoor and outdoor air conditioners, indoor and outdoor air-to-air heat exchangers, indoor air-to-water heat exchangers and filter fans.
"We are excited to bring Cosmotec to the United States," said John York, National Sales and Marketing Manager for Cosmotec's North American division. "At Cosmotec, we've always been committed to bringing the most innovative, quality-driven cooling solutions to those serving in a range of industries and establishing long-lasting relationships with our customers across Europe and Asia. We look forward to establishing these same types of long-lasting relationships with our customers here in the United States."
Part of the STULZ Group, headquartered in Germany with a North American operations center in the United States, Cosmotec's sales and product support staff covers an extensive network of facilities which, in addition to the new operations center in the United States, includes Germany, Italy, India and China. "We are pleased to provide the infrastructure necessary for the support and future growth of Cosmotec in North America," said David Joy, Vice President of Sales and Marketing for STULZ. "The establishment of this U.S. home for Cosmotec will not only expand the availability of Cosmotec's local stock nationally but it will also create an extensive group of more than 80 service providers who can respond to maintenance and repair needs for equipment across a range of industries."
Cosmotec: Innovative Solutions for Thermal Management
Cosmotec's products are designed for specific environmental conditions and the proper cooling of electrical equipment. Slim In indoor and outdoor air conditioners feature a cooling capacity from 500 to 3000 W and utilize micro-channel, all-aluminum condenser coils to save space, use less refrigerant, reduce weight, minimize coil oxidation and increase performance. The sleek design of the Slim In air conditioners makes them 40 percent smaller and lighter in weight than similar air conditioner products.
Cosmotec's heat exchangers include both air-to-air and air-to-water models. Indoor air-to-air and outdoor air-to-air heat exchangers offer a large capacity range in a high efficiency, low pressure drop design. The indoor air-to-water heat exchangers feature a patented construction/air flow feature to prevent water penetration while the copper tube, aluminum fin design of the heat exchanger core promotes optimal performance in heat transfer.
The Cosmotec Kryos2 filter fans feature an innovative retention clip mounting system that enables users to install the fans in enclosures without tools. The fans feature a reversible design that promotes maximal push-pull performance. Available in five different sizes and volt ranges — from 12 VDC to 460 VAC — the fans are standard IP54 designs; upgrades to the IP55 level provide simple yet cost-effective solutions for consumers. The easily replaceable filters for the fans make maintenance easier and offer an increased degree of protection for equipment from dust and other environmental debris.
Cosmotec products have been thoroughly designed and tested to meet or exceed UL requirements for air conditioners and heat exchangers and to meet current IP (Ingress Protection) ratings for electrical equipment.
About Cosmotec
Cosmotec is a technology leader, providing thermal management products for industrial applications. This endeavor is accomplished through the pursuit of innovative design and manufacturing practices that lead to energy efficient cooling solutions for the array of industrial industries. For more information about Cosmotec and its products, call 800-465-9241 or visit http://us.stulz-cosmotec.com.
About STULZ Air Technology Systems, Inc.
STULZ Air Technology Systems, Inc. (STULZ) is an ISO 9001 registered manufacturer of environmental control equipment including a full line of energy efficient precision air conditioners, ultrasonic humidifiers, and desiccant dehumidifiers. The company is responsible for product development, manufacturing, and distribution for the North American arm of the international STULZ Group. For more information about STULZ ATS and its products, call 301-620-2033. E-mail your request to info(at)stulz-ats(dot)com or visit http://www.stulz-ats.com.
—30—