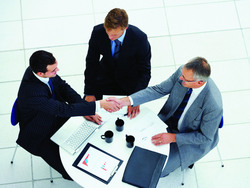 We certainly feel that the UK market could support a franchise network of at least two hundred Auditel consultants. Even then, we would only be tapping into a tiny proportion of the businesses that could be utilising our services.
Ferndale, WA (Vocus) May 23, 2008
According to a survey conducted by Baker Tilly, the number of companies considering cutting their costs almost doubled from 26 percent to 45 percent in March of this year.
Terrible news, you might think - not so if you're a franchisee in the line of cost reduction and management. Since Bank of England Governor, Mervyn King announced that: "for the time being at least, the nice decade is behind us," presaging a possible recession, cost accounting and management franchisees have rarely had it so good.
Nick Tubb, Managing Director of http://www.whitecollarfranchise.co.uk ], along with other cost management franchise experts, comments on the ways cost management can help save struggling businesses during today's challenging economic climate.
Says Tubb: "A tightening in the economy is tough for most businesses, with impact varying industry by industry, but it's not always bad news. Businesses waste billions of pounds every year overspending on fixed costs, services and procurement. Right now, if they want to survive, companies are beginning to wake up to the fact that they simply can't afford to waste that money. And that is why more organisations are turning to cost reduction specialists, in particular some of the more successful franchised outfits, than they have in recent past."
Indeed, for cost management and consultancy franchises right now, the clouds of recession appear to gleam with a silver lining - but only if franchisees can provide adequate shelter for their clients before the forecast storm hits.
Says Chris Allison, Managing Director of Auditel, specialists in managing the cost and purchase of overhead expenditure since 1994: "When the UK economic situation is looking at a downturn, we find an even greater need for our services. Our network is experiencing an increase in demand, which creates a significant opportunity for new franchisees.
"We certainly feel that the UK market could support a franchise network of at least two hundred Auditel consultants. Even then, we would only be tapping into a tiny proportion of the businesses that could be utilising our services."
He adds: "Because, we work with our clients to manage ongoing cost savings for many years, our consultants can run a highly successful business with just a handful of clients. Some of our earliest franchisees, in fact, are still working with some of their original clients over ten years later!"
Highlighting the inherent value of a franchise network in the sector, Chris Aston, Marketing Manager of a similar company, Expense Reduction Analysts (ERA), adds: "Our franchisees pool their expertise and experience to find the best ways to analyse and manage clients' cost savings. This can cover anything from everyday office supplies to travel and waste expenditure.
"We train and support our franchisees in all aspects of cost reduction and management. Together with their clients, they look at where money is being spent, and then using our extensive purchasing knowledge find ways to reduce their client's costs, with an average 23 percent being saved."
Another cost management consultancy franchise, Atlantic Business Resources, prides itself on negotiating special tariffs and services with suppliers of products and services in many of UK businesses' most common expenditure areas, such as telecoms, courier services and packaging.
Chairman of Atlantic, Adrian Drewe, says: "Business in our sector is up on last year. It's fair to say that, because of the current economic problems faced by many business managers, buying well to save money is now much higher on their list of priorities. And with more than £5 billion of direct buying power that we can leverage through quality suppliers, we are able to provide them with incomparable value - much better than they could hope to achieve through their own research and negotiation. "In addition, we also carry out all analysis on behalf of our franchisees, allowing them to manage more clients, get better results and earn more fees."
Also a cost management franchise operating, more specifically, in the cost and process improvement and procurement sector, is EPI International. Using an intelligent software system, EPI enables its clients to access supplier resources, and purchase more effectively. The network's franchisees make their money from client's use of the software (a regular subscription fee is paid), and also from additional training and coaching services provided throughout the review process of a company's performance.
Ian Hippach, Franchise Director at EPI, explains why the market for cost management services is so vast: "Every business spends money on goods and services. However, virtually all tend to focus their resources into creating more sales to increase profit through maximising turnover, rather than through saving money on their purchases. We can ensure that, not only does the company save far more money than the cost of our service, but that they also gain the experience, knowledge and resources to maintain effective purchasing systems for years to come."
Individuals interested in starting their own cost management franchise, or for further information on all the franchises featured in this article, click here to visit the consultancy page of http://www.whitecollarfranchise.co.uk.
Suppliers of this article: WhiteCollarFranchise.co.uk
White Collar Franchise is the Leading Specialist Resource for Management and Executive Franchise Information and Opportunities.
Main contact details for further information:
Nick Tubb: nick @ whitecollarfranchise.co.uk / 0845 869 3855
Contacts for companies listed in this article:
Atlantic Business Resources
Adrian Drewe, Chairman
Adrewe @ atlanticbr.co.uk
01580 200 100
Auditel
Chris Allison, Managing Director
chris.allison @ auditel.net
01962 863 915
EPI International
Ian Hippach, Director
Sara Jones, Franchise Recruitment Support
Sara.jones @ epi-international
01527 577 770
Expense Reduction Analysts
Chris Aston, Marketing Manager
02380 829 737
c.aston @ erauk.net
Distributed by: MP-PR: http://www.mp-pr.com
# # #