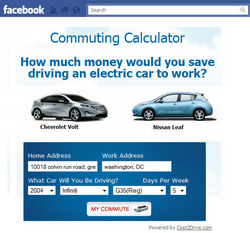 Not only have daily visits to the site doubled over the past three months but that growth is accelerating in the first days of March
Great Falls, VA (PRWEB) March 4, 2011
With gas prices soaring and concerns about the economic recovery weighing on consumers' minds, C2G, a Virginia-based Web company that helps people determine the cost of going places, announces that traffic to Cost2Drive.com is growing rapidly and that over 500,000 people have now visited the site since its launch in October of 2008.
Cost2Drive has been featured on CNN MONEY and NBC's TODAY show. "When we first launched Cost2Drive.com we believed that consumers would value the ability to easily determine the cost of driving places, especially in a period of rising gas prices" said Jim Kovarik, the President and Cofounder of C2G. "Today we're seeing that validated as consumers are visiting the site in record numbers to plan upcoming travel. Not only have daily visits to the site doubled over the past three months but that growth is accelerating in the first days of March."
AAA has reported that the recent spike in gas prices has broken records for this time of year and the Energy Information Administration projects average US gas prices will continue to climb through the summer driving season, possibly reaching $4.00 per gallon. Some areas of the country including California and Chicago are already reporting gas prices in excess of $4.00 for regular grade fuel.
"There's no question that this is contributing to the traffic growth we're experiencing on Cost2Drive" said Mr. Kovarik. "People want to know how these gas prices are going to impact their travel budget and so they turn to our site for help. Not only do we provide the estimated cost of the trip but we help them save money as well by locating the cheapest gas at refueling points along the route. For trips over 200 miles we also display the cheapest airfare so they can see if it's cheaper to drive or fly to their destination."
Today C2G also announces the launch of an innovative Facebook application that calculates the cost savings of commuting to work in an electric car. The Commuting Calculator calculates a user's current commuting costs based on the vehicle they drive to work and then compares it with the cost of driving an electric vehicle to arrive at a monthly and annual cost savings. The electricity costs are based on the $.04 per mile rate that the EPA determined was appropriate for the Chevrolet Volt and the Nissan Leaf. "Along with the launches of electric vehicles we saw a whole new wave of confusion surrounding the cost of driving these cars" said Mr. Kovarik. "Even the EPA was struggling with it, and so we moved quickly to build the application to help people more easily determine the economic benefits of purchasing an electric car."
You can read more about these and other developments regarding C2G, LLC on the company's blog Cost2Go.
About C2G, LLC:
C2G, which stands for 'Cost To Go', is a Web company located in Northern Virginia that is focused on making it easy for consumers to determine the cost of going places. C2G President and Co-founder Jim Kovarik is a 20-year veteran of the online industry and most recently served as the General Manager of Travel for AOL before co-founding C2G in 2008.
You can keep up to date on Cost2Drive.com by following us on Twitter and Facebook.
Contact Information:
For more information on this topic, or to schedule an interview with Jim Kovarik, please call him at 571-294-7418 or email him at jim(at)costtogo(dot)com.
Contact: Jim Kovarik
Phone: 571-294-7418
Email: jim(at)costtogo(dot)com
###