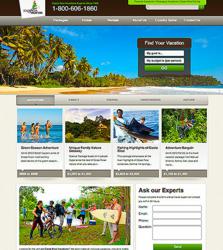 "Stop worrying about the potholes in the road and enjoy the journey." ~ Babs Hoffman
(PRWEB) October 16, 2012
With recent trends pointing to the popularity of all-inclusive resorts in Costa Rica, CRV (Vacations Costa Rica), the leader in the Costa Rica vacations sector, decided it was critical to focus on this emerging market within their new web site redesign efforts.
Vacationers come to this tiny Latin American nation primarily for it's raw and untouched natural beauty. It is no secret that Costa Rica has become the mecca for eco-tourism in the Americas.
In fact National Geographic has called Costa Rica a vital ingredient to the planet's overall eco-stability and sustainability.
ICT (Costa Rica Tourism Board) recently launched a marketing campaign that would ultimately ignite a revitalized interest in Costa Rica tourism. The Million Dollar Gift of Happiness campaign featured a lovable three-toed sloth that provided insightful vacation advice while offering the opportunity to enjoy an all expense paid trip to Costa Rica.
Over the past few years a surprising trend was emerging - all-inclusive resorts in Costa Rica were beginning to rise within the tourism landscape.
Only a few short years ago there were but a handful of all-inclusives however these days, tourists visiting this incredible country have a wide array of all-inclusive Costa Rica resorts to choose from including lavish 5-star establishments by some of the world's most recognized and trusted names in world-class accommodations. Some of these include Westin, JW Marriott and the Four Seasons.
Founder of Vacations Costa Rica, Casey Halloran, had this to say:
"When we sat down with our web design team, we immediately realized that with the increased demand for Costa Rica all-inclusive vacation packages, we had to make this a focal point in our redesign efforts."
Upon launching in April of this year, these efforts would become fully realized.
As the foremost leader in providing the highest quality Costa Rica vacations packages, CRV strives to improve upon their authoritative position by maintain a high standard of customer service including an industry first - customer satisfaction guarantee.
"We are on the cusp of something really great - innovation and creativity are two ingredients Vacations Costa Rica prides itself in and as the leaders in this incredibly competitive sector, our goal is to never lose sight of the demands of our customers - the main reason we are where we are today," added Halloran.
While Costa Rica heads in to it's tourism "high season", hoteliers and tour facilitators look for new and creative ways to heighten the overall experience of vacationing in this highly diverse and lush landscape. In fact, recently we've began to see a number of airlines stepping up flights to this Central American nation of just over 4.2 million.
It should come as no surprise that Costa Rica is widely accepted as the "eco-capital" of the world - although the country is often touted as a playground for the rich & famous, affordable family vacations are available to suit almost any budget.
For more information on booking your next Costa Rica vacation package, please call 1-800-606-1860.
If operators are busy, please call again!