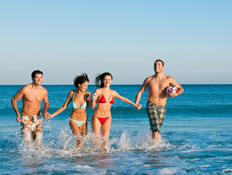 The Happy Planet Index measures what really matters -- long and happy lives now and the potential for good lives in the future.

Nic Marks
San Jose, Costa Rica (PRWEB) December 06, 2012
With the high season rapidly approaching, a large number of tourists are set to descend upon the tiny country but what they might not realize is that Costa Rica was recently voted the happiest nation on Earth by the New Economics Foundation (NEF).
This study - unlike the Gallup poll by the United Nations - considers eco-sustainability which affects not only current residents but also that of future generations.
"The Happy Planet Index measures what really matters -- long and happy lives now and the potential for good lives in the future," said Nic Marks, creator of the index, in a press release.
As announced by the Department of Immigration and Foreign Affairs (DGME), between the two international airports in Costa Rica, Juan Santamaría and Daniel Oduber Quirós, the number of international arrivals increased by 26% in the first 6 months of 2012.
This increase in attention to Costa Rica vacations is likely due in part to attracting new airlines and increasing the frequency of existing flights. ICT (Costa Rica Tourism) has reviewed the data provided by DGME and verified it's accuracy.
While tourism numbers are clearly increasing, a large portion of world-wide interest most certainly has to be credited to being the happiest place on the planet. Another unique quality about Costa Rica is the fact that it is one of only five, Blue Zones. on the globe.
Guanacaste is the northern most province in Costa Rica. It is here that you will find an area that has been labeled a "Blue Zone". These are portions of the planet where longevity is at it's peak.
FACT: A Costa Rican man at age 60 has about twice the chance of reaching age 90 as does a man living in the United States, France, or even Japan. (taken from http://www.bluezones.com)
Costa Ricans are proud people - and rightfully so...
December 1, 2012 was a day of celebration for all Costa Ricans with the 63rd anniversary of the abolishment of the military. This was paramount in setting an example for the area by averting resources in to other sectors of the government like medicare and education with concentrated efforts on peace. All of which is conducive to the overall motto of the country - Pura Vida or "Pure Life" in English.
Costa Rica vacations company, CRV founder Casey Halloran had this to say about the rising interest in why Costa Rica is so jovial.
"We've always known how great it is here and I find it fascinating to see the rest of the world becoming more curious as to why. Our rise in sales with respect to custom vacation packages stands testament to the growing interest Costa Rica is enjoy throughout the world."
Early indications are pointing to a record year for Costa Rica tourism and with a steadfast reign over being the happiest place on Earth...Costa Rica looks ahead to a prosperous 2013 season and beyond.
Founded in 1999, Costa Rica Vacations (CRV) mission is to give people the power to create their own custom vacation packages. Anyone can offer vacation packages yet CRV prides themselves in recognizing your unique "travel personality" rather than the one-size fits all concept our competitors. CRV is a privately held company and is headquartered in San Jose, Costa Rica.