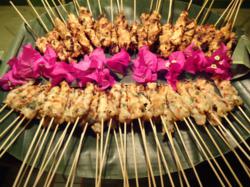 I had a blast creating menus... and then I didn't even have to cook, just eat!
Manuel Antonio, Costa Rica (PRWEB) July 06, 2011
The Escape Villas Chefs have introduced a selection of tasty new treats for guests who stay in their exclusive Costa Rica vacation rentals. The highly recommended Escape Villas Chef Service in Costa Rica combines the expertise of professional culinary artists with an innovative selection of delectable dishes.
Fresh seafood, locally sourced organic produce and the finest select cuts form part of the diverse Escape Villas Chef service menu. There is no doubt that the Chef Service team is accomplished at serving up a series of delicious meals in their exclusive Costa Rica villas. Vacationers who have opted for the Escape Villas Chef Service whilst staying in Costa Rica villa rentals agree that the versatile menu, professionalism of the chefs and personalized service ensured that their break in this beach and sun paradise was hassle free.
Escape Villas serves up menu packed with tantalizing culinary delights
Head Chef Stéphane De Pascali has added some appetizing new dishes to the Escape Villas Chef Services menu. Specializing in a fusion of European and Asian cuisine, with its delicious taste and vibrant colors, De Pascali has introduced a Coconut shrimp dish in a tangy ginger sauce and freshly caught Dorado with sesame combined with a tasty sauce vierge. Chicken breast with honey sauce, juicy pork loin with raisin chutney, seasoned jumbo shrimp with heart of palm, Thai seasoned tender beef loin and a mouth-watering passion fruit mousse complete the revamped carte du jour. Head Chef De Pascali explains, "We offer a complete menu with a variety of delicious dishes and if the client wants something different then we are happy to prepare the dish of their choice."
Enjoy a hassle free Costa Rica vacation with the ultimate in gourmet cuisine
Marilynne Leadon stayed in an Escape Villas vacation rental, Casa Carpe Diem, in Manuel Antonio for one week in June 2011 with her family. Mrs. Leadon explains her decision to opt for the chef service in Costa Rica, "We chose the Chef Service for a number of reasons. First, eating out at restaurants takes a lot of time and money. We wanted to be able to relax in the morning and evening after our excursions. I cook a lot at home and love cooking, but I wanted a vacation as well! I didn't want to spend time grocery shopping and cooking; I wanted to have fun with my family. It was more convenient, and elevated our experience to a vacation and not just a trip."
Mrs. Leadon praised Escape Villas Chef, Chris Thebault's culinary skills, "He and I met after breakfast each morning and created the menu for dinner that night and breakfast the next day. Then he went shopping and put the groceries in the kitchen. He came back in the afternoon to prep the food and then served us when we were ready. He put fresh flowers on the table every day. He gave me a standard list of what he could prepare, but we generally just talked about what was fresh, in season, and good in the grocery store. I had a blast creating menus with him and then I didn't even have to cook, just eat!"
A graduate of the School of Le Nôtre in Paris, France, Chef Thebault has worked in some of the finest restaurants around the globe. His newest additions to the Escape Villas menu include, Thai Green Curry with fish, chicken or vegetables, freshly caught Red Snapper Caribbean Style, Green Plantain Ceviche and Tarta Tatin, a French specialty made with caramelized apples and cinnamon.
Escape Villas' new menu and chef service in Costa Rica vacation rentals
The new additions to the Escape Villas menu have proved popular with Costa Rica vacation rental clients and the team's professional approach has assured their services are frequently requested and Mrs. Leadon is just one of many happy vacationers who agrees, "Would I recommend this? Absolutely. I am going to look into having a chef service for our next overseas trip."
For more information please visit: http://www.villascostarica.com
###