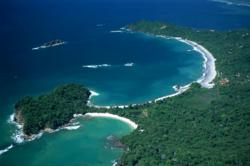 We are enthusiastic about the recovery of the tourism sector
San Jose, Costa Rica (PRWEB) June 10, 2011
On May 19th, the I.C.T announced that the popular Central American beach vacation rental destination of Costa Rica received 49,595 more tourists in the first three months of 2011 than in the same period in 2010. Regional tourism experts indicate that the increased popularity of Costa Rica vacation rentals has been a key factor in the recovery of the country's tourism industry. Escape Villas, a leading vacation rental agency in Costa Rica is expecting consistent occupancy throughout the year demonstrating that villa rentals are the preferred choice for many tourists visiting Costa Rica.
The Costa Rican Tourism Institute (ICT) has welcomed the increase, stating that this is a clear indication that the country's travel industry has recovered from the worldwide economic crisis. Showing an increase of 7.8% in international arrivals, Costa Rica registered above the 5% world average set by the UN World Tourism Organization.
Costa Rica's diversifying tourism industry
More vacationers are showing a preference for property rentals over hotel accommodation and industry insiders suggest this has a lot to do with personalized customer service and the availability of a wide range of vacation homes. Furthermore, vacation rental agencies, like Escape Villas, have effectively diversified their marketing strategy to ensure high occupancy levels throughout the year, and are confident that 2011 will bring continued success.
Statistics reveal significant increase in arrivals
Figures composed by the Costa Rica Immigration Office (Dirección General de Migración y Extranjería or DGME) were analyzed by the ICT and released on the 19th May 2011.
Of the 685,959 international tourists that arrived in Costa Rica in January, March and February of this year, 54.2 percent, 252,468 tourists were from the United States. Juan Santamaria International Airport recorded a total of 363,898 arrivals and Liberia International Airport a total of 100,864 arrivals. Liberia Airport, located in the province of Guanacaste, registered a historical 26.9% growth in the first three months of 2011.
A small country that packs a big punch
With a total of 4.5 million inhabitants, Costa Rica receives more than half its total population in tourists every year, and it continues to rise. 2.1 million tourists enjoyed Costa Rica vacations in 2010, 9.2% more than in 2009. These tourist arrivals generated a total of more than 2.1 billion dollars, an average spend of $1000 per tourist contributing to the equivalent of 6% of the country's gross domestic product (GDP)
These statistics demonstrate that Costa Rica is amongst the best performers when it comes to the worldwide recovery of the tourism industry. Information released by UN World Tourism Organization reveal that International tourism continues to recover from the global financial crisis and downturn of 2008-2009 rising in every region of the world. International tourist arrivals grew on average by almost 5 per cent to more than 124 million in January and February this year compared to the same period in 2010.
"It has been a very good start to the year," said the Minister of Tourism for Costa Rica, Allan Flores. "We are enthusiastic about the recovery of the tourism sector; nevertheless, we must not let down our guard. Our aim at the moment is to increase stay and the average daily spend of those that visit; as well as take concrete actions to diversify our target markets," he added.
The Costa Rican tourism industry has diversified its approach in attracting visitors to the country. Not forgetting its significant draw as an eco tourism destination, medical, business and corporate tourism are developing niche markets in the region. Furthermore, the country's burgeoning vacation villa rental industry is being recognized for its ability to attract a wide range of clients. The flexibility offered by beach vacation rentals has contributed to the country's steady growth in tourism revenue.
Costa Rican vacation rentals diversifying
After the worldwide economic crisis, many vacation rental agencies began to diversify in their marketing approach. "By developing a destination wedding and family vacation marketing strategy we are able to attract more clients and receive consistent booking throughout the year," Sara Hopkins explains.
In operation for over ten years Escape Villas not only attributes their success to an extensive portfolio of luxury properties in Costa Rica but also the incorporation of a wide range of concierge services.
"There's no doubt that our clients enjoy staying in homes of grand design. Who wouldn't want to have exclusive use of their own ocean view swimming pool? For Escape Villas it's about going that little bit further, we are all about outstanding customer service and we continue to diversify in our marketing strategy." explained Sara Hopkins, spokesperson for Escape Villas.
"We stock the kitchen, ready for your arrival, we organize all your tours and book massages and yoga classes for your relaxation. We offer 24 hour availability, and there are not many hotels that can do the same," said Hopkins.
Escape Villas also provides a roster of expert chefs. With a variety of culinary styles to suite the discerning taste of their guests, Hopkins explained, "Chefs are available for just one meal or for the entire duration of your stay, many of our clients know a lot about quality cuisine and we want to show that we do too."
What it all boils down to
Consistent occupancy levels reported by vacation rental agencies such as Escape Villas are not only a result of their personalized approach to tourism, but also their ability to adapt to changing market conditions.
For more information please visit: http://www.villascostarica.com
# # #