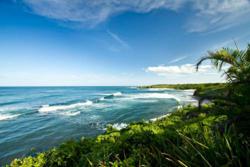 Beaches, sunsets, animals, and waterfalls are all images we are hoping to see.
Manuel Antonio Beach, Costa Rica (PRWEB) June 23, 2011
Luxury vacation rental company Escape Villas is pleased to announce their upcoming photography contest, which will be hosted entirely on their blog and social media platforms. Participants will have the chance to win cash prizes for their winning photos of Costa Rica. Judging will be public and participants are encouraged to invite their friends to join the voting.
"We're looking to reward folks for their creativity and collect the very best photographs of Costa Rica," said Sara Hopkins, spokesperson for Escape Villas. "Expanding our reach on social media is an ideal way to enhance the user experience of our visitors, as well as improve our customer service. Expect to see daily updates on our Facebook, Twitter, and Tumblr pages as we receive photo submissions."
The photography contest will span the month of July and will be held in two parts. Photo submissions will be accepted from July 1st to July 22nd, and the week of voting will be held from July 23rd to the 31st. The winning photos will be announced on the 2nd of August.
"The contest is open to everyone, amateurs and professionals alike. We are seeking a variety of photos of Costa Rica. Beaches, sunsets, animals, and waterfalls are all images we're hoping to see," Hopkins explained.
Founded in 2001, Escape Villas specializes in renting luxury vacation villas in all areas of Costa Rica. Their top-notch concierge services provide tours, chefs, activities, transportation, destination and beach wedding planning, and anything else you could possibly need during your stay in their vacation rental villas.
For more information regarding the rules and regulations of the Escape Villas Photography Contest, please email social.media@escapevillas.com
Our Facebook page can be found at: Experience Costa Rica or http://www.facebook.com/experiencecostarica
For listings please visit our website: http://www.villascostarica.com
###